About Our Private Client Services
We are proud to help you on a private client basis; that is, we can help you develop courseware and deliver it in multi-media—online, in the classroom, in conference, or by self study--on a branded, co-branded or private label basis.
And because The Knowledge Bureau is a national certified post-secondary institution, we develop certificate courses, programs for CE credit or more formal designation programs as well, to enable your advisors to demonstrate the important knowledge credentials so critical for positioning in today's markets.
We have worked with most major players in the tax and financial services. For more information, click here.
Testimonials
In Mutual Fund Wholesaler Dimensions Standard Life is the number one company in Canada overall, #1 in the general survey in 6 of 9 categories and 8 of 9 in Core Supporter scores, based on a 2009 Environics Survey. We are very pleased with these results, which are, in part due to our great relationship with you, Evelyn, and The Knowledge Bureau.
Mick Kelly, Vice President - Sales
Retail Markets - Standard Life
Evelyn Jacks and her team of experts at The Knowledge Bureau have been a significant part of the success of Dynamic's award winning Snapshots program. Snapshots is an online resource centre helping advisors provide customized and personalized advice and resources to clients at various life changing events. It won both the Investor Education Award and Advisor Education Award at the Canadian Investment Awards in December 2009. Evelyn and her team provided valuable in depth advisor education courses on a variety of the life events covered including Leaving a Job, Ailing Parent, Home Ownership and Disability. Their continuing education accredited courses have been taken by thousands of advisors across Canada who are interested in strengthening their relationships with clients by offering holistic advice as their clients' lives change.
Terri Williams, Vice President, Editorial and Advisor Services
Dundee Wealth
It is a real pleasure to work with you. Your programmes are the best in class!
Jill McAlpine, FCA, TEP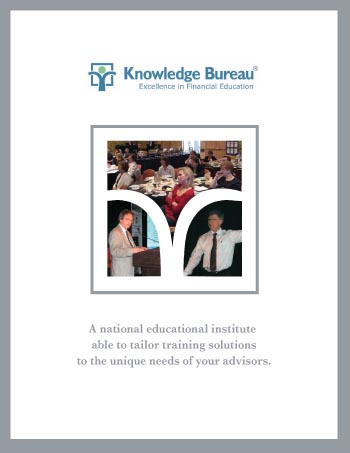 .
For more information contact: