About Us
The Leading Trainers of Tax Accounting and Financial Services Professionals in Canada
| | | |
| --- | --- | --- |
| | Evelyn Jacks, President | |
It gives me great pleasure to introduce Knowledge Bureau --presenting the latest in continuing professional development--for staff training, upgrading and continuing education credits with your professional organization. Take an academic path to prestigious certification and designation, too. Choose from 24 courses by self-study.
Each course features leading edge tax and financial planning techniques. . .and three great ways to learn: Audio lecture, online case studies and testing, together with a handsome professional reference library – all supported by our friendly educational consultants and instructors. Our courses are written by Canada's most prolific practitioners in the tax and financial services industries.
Knowledge Bureau™ is Canada's leading national post-secondary educational institute for continuing professional development in the tax and financial services. It is focused on providing the knowledge, skills and confidence financial practitioners need to specialize in providing tax efficient investment, retirement, business and estate planning services. Its network of graduates in certificate courses, diploma and designation programs spans to thousands across Canada.
Take a Short Knowledge Bureau Video Tour
It is the home of the MFA™ (Master Financial Advisor) designation, which signifies specialization in retirement, business, and succession/estate planning in wealth advisory practices, as well as the DFA-Tax Services Specialist™ and DFA-Bookkeeping Services Specialist™ designations for professionals in the tax accounting services.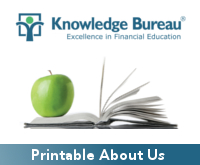 Knowledge Bureau hosts regional workshops and in-class events in major centres across Canada, taught by industry leaders in a blended learning opportunity with its online courses, and an annual international event, the Distinguished Advisor Conference™, which explores strategic wealth management for retirement in locales clients retire to. It also partners with corporate clients and academic institutions, custom-designing CE modules, webinars, and keynotes to meet organizational needs. Finally, Knowledge Bureau is a national publisher of financial books, providing the opportunities for Canadian and their advisors to make better financial decisions together.
For more information contact Knowledge Bureau at 1-866-953-4769.
Over 450,900 online course module registrations leading to CE/CPD credit
Over 17,100 Knowledge Bureau Report subscribers
Over 19,100 Technical training certificates issued
Over 9,370 Active certificate course students in diploma and designation programs
Over 1,540 Distinguished Financial AdvisorTM and Master Financial AdvisorTM Designation program students
Over 10,400 CE Summits & Distinguished Advisor Conference attendees