About Us
The Leading Trainers of Tax Accounting and Financial Services Professionals in Canada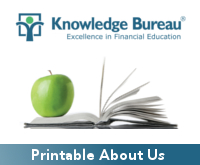 Knowledge Bureau™ is Canada's leading national post-secondary educational institute for continuing professional development in the tax and financial services. Founded in 2003 by bestselling tax author and internationally acclaimed educational entrepreneur, Evelyn Jacks, Knowledge Bureau publishes and delivers 25 online certificate courses leading to continuing education certification and occupational skills diplomas.
It is the home of the MFA™ (Master Financial Advisor) designation, which signifies specialization in retirement, business, and succession/estate planning in wealth advisory practices, as well as the DFA-Tax Services Specialist™ and DFA-Bookkeeping Services Specialist™ designations for professionals in the tax accounting services.
Knowledge Bureau hosts regional workshops and in-class events in major centres across Canada, taught by industry leaders in a blended learning opportunity with its online courses, and an annual international event, the Distinguished Advisor Conference™, which explores strategic wealth management for retirement in locales clients retire to. It also partners with corporate clients and academic institutions, custom-designing CE modules, webinars, and keynotes to meet organizational needs. Finally, Knowledge Bureau is a national publisher of financial books, providing the opportunities for Canadian and their advisors to make better financial decisions together.
For more information contact Knowledge Bureau at 1-866-953-4769.