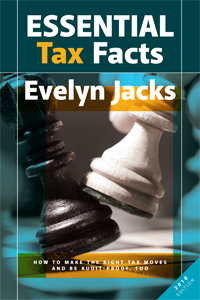 EVELYN JACKS' NEW ESSENTIAL TAX FACTS
How to Make the Right Tax Moves and Be Audit-Proof, Too
BONUS: February 27 Tax Changes Included.
Now Available.
Tax reforms are here again and a lot has changed - for individuals, families, students, investors, retirees and business owners. Evelyn Jacks, Canada's most trusted tax educator and best-selling author will help you make the right tax moves and be audit-proof, too. It's for you, if you want to:
Receive More. Get bigger tax refunds and more refundable tax credits
Take Control. Keep more of your hard earned dollars in your own pocket by understanding your tax system better
Earn More. Make tax-smart decisions about your investment and retirement plans by focusing on tax efficiency
Get More Value. Maximize the professional dollars you spend with accountants and financial advisors by asking better questions
Beat The Taxman. Be proactive, confident and ready with audit-proof tax returns when CRA picks yours for review
The taxes you pay may be your biggest lifetime expense and wealth eroder. Written in simple, easy-to-understand language, this comprehensive how-to guide will help every taxpayer: novice, experienced filers, including professional tax and financial advisors, cope with Canada's complex tax system.
Whether you are saving for your education, buying your first home, getting married, having children, making a career change, giving care to a loved one or getting ready for retirement, ESSENTIAL TAX FACTS is your companion to tax savings - full of savvy tax tips to help your grow your wealth - after tax - to your greater peace of mind.
This is About Your Money. Understand tax jargon to make more savvy financial decisions at every age. Remember, life events can trigger tax consequences. Planning ahead can save you thousands of dollars.
You Too Can Make Better Financial Decisions. If you want to create more income, pay down your debt faster, and build capital for the future, this book is for you. Add it to your trusted financial references now!