Registration and CE
Register today for the 14th Annual Distinguished Advisor Conference!
Registrations to DAC are accepted until October 31. Please call 1-866-953-4769.

How to Register
Register by sending us your completed application (click here to download) by fax at 1-204-953-4762 or email at registrar@knowledgebureau.com. You can also call us at 1-866-953-4769 to enroll by phone.
Download 2017 Registration PDF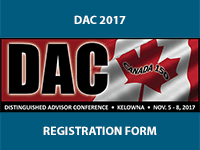 Tuition Fees
Register early and pay in full to save the most. Taxes extra. Taxes and instalment fee of $95 will be added to first payment. Prices subject to cahnge without notice. Tuition fees may be deductible.
Early Registration Offers
Regular Tuition
Tuition
Spouses
Instalment Plan
Add $95 instalment fee and taxes to first payment
By June 30
$1995
$1795
$495
2 x $ 897.50 with spouse 2 x $1145.00
By September 30
$1995
$1895
$595
FULL PAYMENT ONLY
By October 31
$1995
$1995
$595
FULL PAYMENT ONLY
Registration: Includes approximately 15 CE/CPD credit hours, journal, accreditation, certification, opening reception, breakfasts, mimosa breaks, group gala dinner.
Visit agenda often as speakers and topics are added. Enquire about a 10% reduction on tuition for multiple enrolments from your group.
Graduate Lunch: MFA and DFA-Specialist students and grads are invited to this free celebration of excellence.
CE/CPD Credits
The DAC is a great way to earn continuing education credits for designations and licensing requirements in the tax and financial services. The conference will be assessed for Continuing Education credits when final content is determined and reviewed by the following accreditors:
Knowledge Bureau Designation Credits
AIC (Alberta Insurance Council)
ICM (Insurance Council of Manitoba)
IIROC (CECAP) - Investment Industry Regulatory Organization of Canada
Chambre de la sécurité financière (CSF)
All up to 15 CE/CPD Credits
Employees and the Tuition Fee Amount

Knowledge Bureau is a private, designated educational institute and our tuition fees qualify for the Tuition Fee Tax Credit if over $100. This includes the fees for all self-study courses, the Distinguished Advisor Workshops and the Distinguished Advisor Conference™ (DAC). It is an important option for the partial recovery of costs paid by employees who fund their own conference fees. To claim the amount on your tax return, you'll need a completed Form T2202A, which is available through the Knowledge Bureau. Simply Logon to the Virtual Campus and go to the Administration section for access to your Form T2202A.
Students in self-study courses, qualify for part-time education and textbook amount when they work on their course for at least three consecutive weeks and at least 12 hours per month is devoted to coursework. The part-time education and textbook tax amount of $140 is available at the federal level for each month during which the minimum hourly requirement is met. Additional provincial credits are also available and vary by province of residence. Eligibility for the amount is shown on your T2202A. Students should record their hours monthly on the T2202A input form (in the Administration section of the Virtual Campus). Once the year is complete, the T2202A may be printed to include with your tax return for the year.
Attendance at the Distinguished Advisor Workshops and the Distinguished Advisor Conference™ (DAC) will qualify for the tuition amount, but will not qualify for the part-time education and textbook amount as the requirement for three weeks duration is not met.
Self Employed Attendees

Tuition fees for self-study courses, workshops and educational conferencing may also be tax deductible by self-employed professionals as a business expense. Your receipt for payment to Knowledge Bureau is your documentation for the expense claim. GST/HST paid is also recorded here.
The Distinguished Advisor Conference™ (DAC) is held in locales where Canadians go to retire to determine the economic, retirement, investment, currency, health risk management and tax environment for which tax and wealth planning is required. This makes the educational programming unique and specific to the wealth management needs of clients and unavailable elsewhere in North America. Expenditures may be deductible; however, delegates should seek professional advice for their personal circumstances and to understand potential restrictions and how to account for business vs. personal expenditures. A maximum of two conventions per year are claimable when a business exists with a reasonable expectation of profit. Several other criteria may exist for out of country conventions. See IT-357 for more information or call 1-866-953-4769 if you need assistance.