Faculty
Knowledge Bureau offers you the chance to connect and learn from the top financial experts in Canada.
Experienced instructors, researchers, best-selling authors and media commentators were chosen as Knowledge Bureau faculty based on their wealth of knowledge, their personal expertise, as well as their ability to deliver their specialties in an entertaining and thought provoking manner.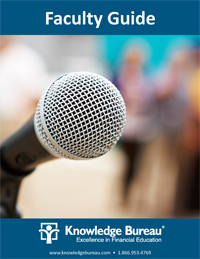 How to Connect with Knowledge Bureau Faculty:
Programs
& Courses Books Workshops Conference
We invite you to learn more about our Distinguished Faculty as you consider how the Knowledge Bureau can provide solutions to your educational needs. If you are interested in finding out more about how you can engage a Distinguished Faculty member for your own unique needs, please contact the Knowledge Bureau at our toll free number at 1-866-953-4769, e-mail at reception@knowledgebureau.com or use the following link to complete our speaker reservation form.