Build Long Lasting Relationships with Clients Who Struggle with the Debt
Posted: February 24, 2017 By : Knowledge Bureau Staff
Posted in: Strategic Thinking
According to an article in the Financial Post, for the first time, the level of debt held by Canadians has exceeded the country's gross domestic product. For the advisor now taking on clients struggling with their debts, the new edition of the Debt and Cash Flow Management course is solution for expertly advising clients on managing debt today and in the future and minimizing the debts.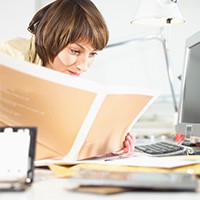 Tax advisors in fact, be the first to note a debt problem, as taxpayers scramble to file returns for early refunds. But, wealth advisors need to be involved, too - to see where the debt lies, how to help the client use debt in a healthy manner and then coach towards the orderly accumulation, growth and preservation of wealth that will lead to peace of mind.
The new edition of Knowledge Bureau's Debt and Cash Flow Management course is designed especially for professionals in the tax and financial services to gain the skills needed to proactively help their clients plan for and manage their financial health by reporting on improvements in debt and savings over time. Professional accountants and bookkeepers will be able to add value from this certified skillset, too.
What's new in the course: The new mortgage rules are explained to help your clients understand what is required to qualify for a mortgage now. The course also now includes a new chapter on Debt for Businesses.
In addition, the student will learn how to create a plan to explain how to integrate debt and cash flow data collection into periodic record keeping with clients, use software and calculators to construct a cash flow management plan and track different forms of debt; such as mortgages, revolving credit and car loans and leasing.
The online course, which is part of DFA – Bookkeeping Services Specialist designation program, also teaches the student to prepare cash flow analysis and financial assessments using Knowledge Bureau calculators and interview tools.
Students become familiar with following topics and terms:
A New Era of Planning
Debt & Cash Flow Data Collection
Understanding Credit
Mortgages
Revolving Credit
Vehicle Loans & Leasing
Cash Flow Management
The Effects of Debt on a Financial Plan
How to Present Solutions
Business Debt
For more information about Knowledge Bureau's Debt and Cash Flow Management course, click here.
What Our Students Say:
"My favorite course so far! Excellent and incredibly useful information valuable not only to advisors, but to the people they advise. Anyone with a mortgage or planning on getting one should take this course." Liam P., SK