DAC 2017: Addressing Financial Adversity And Diversity
Posted: January 31, 2017 By : Knowledge Bureau Staff
Posted in: Strategic Thinking
After an eventful two weeks in global politics and economics, the theme for the 2017 Distinguished Advisor Conference (DAC) appears to be squarely on point: Financial Advice at the Crossroads of Change.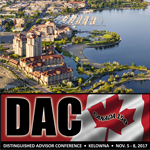 The DAC is Canada's pre-eminent educational event for the top wealth advisors in the tax and financial services. This year's event, November 5-8, is a must-attend for top advisors who wish to help their clients understand how to move forward in an era of unprecedented change. This year, leaders from the financial services industry, tax and estate experts, and motivational visionaries from all sides of the financial services will again share insights to help you navigate change. We will also celebrate Canada's unique and diverse role in tax and financial services over the course of its 150 years since Confederation.
Don't miss the Distinguished Advisor Conference, in beautiful Kelowna, British Columbia. Refresh your vision and execute on your mission - and earn up to 15 CE credits. Do not miss DAC 2017 at the stunning Grand Okanagan Resort. We are preparing amazing group activities for you—so you can forge important new business, educational and personal networks.
Please visit the web page, we have prepared especially for you to discover a list of fun and exciting Things to See and Do in Kelowna. For more information, visit www.knowledgebureau.com or call toll free 1-866-953-4769 for personal assistance.
What attendees say:

"Very deep and thoughtful thinking about the future of the wealth management industry." - W. Simpson, Toronto, ON

"All around best conference for education and improvement. It will truly accelerate all elements of your business." - K. Hemmett, Winnipeg, MB

"Great networking, always learn something I can take back; made me re-think what I am doing." - D. Allard, Kelowna, BC
©2017 Knowledge Bureau Inc. All Rights Reserved.