Diana Juricevic: Making sure we respect the rights of seniors
Posted: October 03, 2012 By:
Posted in: Breaking News, Investment & Retirement, seniors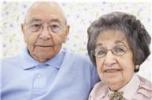 Elder abuse — be it physical or financial — is a human rights issue for a number of reasons, says the Ontario native. "One, seniors are entitled to respect," Juricevic explains. "Also, seniors have the right to live in safety and security and, thirdly, seniors have the right to be free from economic and financial abuse. Their money and property belong to them — not to their families or administrators."
Juricevic has spent a career thinking about human rights and how those rights can best be safeguarded. A lawyer by profession, she was a member of the defense team for General Ante Gotovina, who was being tried in the International Criminal Tribunal for the former Yugoslavia. In 2010, she worked in the Extraordinary Courts of Cambodia as it dealt with the atrocities committed by the Khmer Rouge in the later part of the 1970s. Now in Vancouver as part of B.C.'s Human Rights Tribunal, she sees cases of elder abuse — and it raises concerns.
Certainly, there is a growing awareness of elder abuse — and for good reason. According to Statistics Canada's report The Canadian Population in 2011: Age and Sex, the number of seniors in Canada is increasing. From 2006 to 2011, says the report, the number of seniors aged 65 and over increased 14.1% to close to 5million. In 2011, seniors accounted for 14.8% of the population, up from 13.7% five years earlier — a record high.
But growing even faster is the number of Canadians aged 60-65. In that time period, their numbers increased by 29.1%. Says the report: "This suggests that population aging will accelerate in Canada in the coming years, as the large baby boom generation, those born between 1946 and 1965, reaches 65 years old."
There are indications that incidence of elder abuse is growing in tandem with the aging population. Another StatsCan report, Family violence in Canada: A statistical profile, 2010, notes that, compared to other age groups, seniors are at the lowest risk of violence — but that doesn't make them free of violence. "Overall," says the report, "seniors were most at risk from friends or acquaintances (73 victims per 100,000 seniors), followed by family members (61 victims per 100,000) and strangers (51 victims per 100,000). Grown children were most often identified as the perpetrator of family violence against seniors."
Financial abuse is also growing. "Financial abuse occurs whenever someone gains financial benefit at the expense of an older adult without his or her consent or lawful authority," explains Juricevic. "This may include failing to use the assets of an older adult to support his or her own welfare, as well as other ways of misappropriating money or property."
At this year's Distinguished Advisor Conference, "Navigation: Charting a New Course" — to be held Nov. 11-14 in Naples, Fla. — Juricevic will discuss the signs of elder abuse, as well as other human rights violations, and suggest strategies advisors can use in their practices when working with vulnerable groups. She takes to the stage Tuesday, Nov. 13.
"Everyone has the right to live with dignity and respect in Canada," she concludes. "We have a responsibility to ensure that all Canadians can benefit from the services that are available in our country — and especially our seniors and those who are most vulnerable in our society."