Featured Book: Jacks on Tax
Posted: November 27, 2012
Posted in: Your Professional Development, Tax Planning
Over 5 million Canadians submit their taxes online. This book by Evelyn Jacks is a must-read for the DIY tax-filer. KBR readers get $5 off if they order before December 3.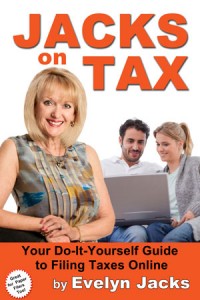 Order now!

Use Promo Code: KBR
"Do-it-yourself" is back in vogue and that applies to your tax preparation as well. More Canadians are looking for ways to save money and this year, you can save time and money understanding your own return and take better control of your financial affairs too, with Canada's most trusted, best-selling tax author, Evelyn Jacks.
Do you know what you don't know? When to talk to a pro? This book will help guide you, line-by-line. It's a book for everyone because its premise is simple: a more informed taxpayer, working with a collaborative professional community, will get more out of the tax system now and in the future. Here's why:
Do-it-yourselfers: there is a 50% chance you'll be using software and filing electronically, so you'll need to know what your software is doing, or waiting for you to do, behind the scenes.
Still Paper-filing? You may want to switch to the convenience of online filing. What do you need to know?
Tax Pros: do you run into folks who want to try it themselves? Wouldn't it be great to offer this book and your helping hand in collaboration when needed?