Hot News: DAC 2019 Returns to Puerto Vallarta, Mexico
Posted: November 06, 2018
Posted in: Strategic Thinking, DAC, distinguished advisor conference, Puerto Vallarta, financial conference, DAC 2018, conference destinations, DAC 2019
Knowledge Bureau is excited to announce that 2019's Distinguished Advisor Conference (DAC) will take place in beautiful Puerto Vallarta, Mexico, November 10-13. Early bird registration is now open with an important opportunity: a $300 hotel credit for registrations received by November 15.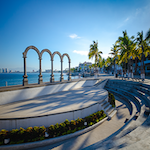 The theme of the 16th Annual Conference is "Economic Resilience: Wealth Creation and Distribution in the New Economy" which will focus on the issues future Canadian retirees need to consider before moving abroad to increasingly

popular retirement havens.
"DAC 2019, invites a national delegation of Canadian advisors from all sides of the financial services—including leaders in the wealth, insurance and tax advisory businesses—to better understand the financial implications of saving for a retirement abroad," says Evelyn Jacks, Founder and President of Knowledge Bureau. "From planning and funding second home ownership, to anticipating currency fluctuations, inflationary pressures, the costs of travel, medical insurance, communications challenges, as well as family separation and reunion, it is clear that advisors equipped to manage retirement goals with tax-efficient portfolios can help manage these costs."
The networking is particularly important part of the event. In a world in which professionals increasingly spend more time working in a digital environment, DAC provides an outstanding opportunity to learn with peers and 20 top speakers and thought leaders, while contemplating the cutting edge skills required to provide fulsome advice that meets the needs of Canadians working and playing in a new global economy.
Make a great decision! Take time to work on your career, your credentials and the strategic direction your conversations with clients and colleagues will take, as you build your new economy practice. In the process learn how to reach your ideal clients, become more referable and work more collaboratively with like-minded delegates you'll meet at DAC.
Register now to secure your spot and receive an early registration bonus: a $300 hotel credit (if you sign up by November 15, 2018), plus an early bird registration rate. Instalment payment plans are available as well.
Please partner with us in developing outstanding content by exploring your potential sponsorship opportunities. Call 1.866.953.4769, and stay tuned to Knowledge Bureau Report for more details about this exciting event as they're unveiled!

COPYRIGHT OWNED BY KNOWLEDGE BUREAU INC., 2018.
UNAUTHORIZED REPRODUCTION, IN WHOLE OR IN PART, IS PROHIBITED.