BEST DAC EVER: The Advisor's Role at the Crossroads of Change
Posted: November 07, 2017 By : Knowledge Bureau Staff
Posted in: Strategic Thinking, DAC, Financial Advisor, knowledge bureau, Evelyn Jacks, distinguished advisor conference, financial conferences, Canadian conferences
The Distinguished Advisor Conference was an outstanding success with all of the speakers delivering thought leadership with passion and conviction to the theme: Financial Advice at the Crossroads of Change.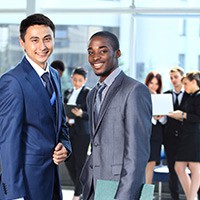 One of the first sessions on the opening day of the conference was Paul Bates's riveting presentation on the new role of the advisor at this important time when fiduciary duty and a client's best interests is at the forefront of the advisor's obligations. Paul discussed what's at stake from a regulatory point of view and, more importantly, how privacy, security and the protection of client rights must be a considered in this era of disruptive change and at a time when older, richer clients are increasingly vulnerable to fraud and abusive financial behaviors.
Paul Bates is in a unique position to comment on this question. As as a member of the Expert Committee to Consider Financial Advisory and Financial Planning Policy Alternatives, he played a key role in concluding definitively that financial planning and the giving of financial advice should be regulated in Ontario. And beyond that, his experience as a well-respected executive in the financial industry, with capital markets regulation, corporate and not-for-profit governance, and academic teaching and administration gives him broad perspective on the issue of the financial advisor's role.
As instrumental as he has been in advocating for transformative regulatory change in the industry, Bates points out that going beyond compliance is what will truly differentiate you from your competitors: "My focus is on the assurance of expertise, the assurance of care, and the assurance that—regardless of their own financial literacy—the client's interests are first-guaranteed."
In fact the "transformative advisor" can't be afraid to get personal! Developing and cultivating one deep relationship at a time is what will assure your position as the absolute go-to, most trusted advisor for your clients, no matter what is required by the industry or government rules. Paul was truly inspirational as he asked the delegates to consider how to recalibrate their practice by building greater equity through deeper, richer relationships, continuing education and a relentless focus on the unique needs and best interests of their clients.
If you missed this year's DAC, don't pass up the opportunity to enhance your knowledge and enrich your perspective at DAC 2018 in beautiful and historic Quebec City! Next year's theme is The Changing Face of Community: Collaboration with Impact. Register now to assure your place and to experience education differently, November 11-14, 2018.
©2017 Knowledge Bureau Inc. All Rights Reserved.