Advanced Bookkeeping for Multiple Businesses
Bookkeeping and Accounting
By: Evelyn Jacks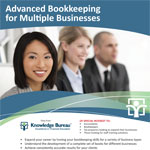 PROGRAM: Bookkeeping Services Specialist, Business Services Specialist
Using the features of SAGE Simply Accounting and Intuit QuickBooks learn advanced bookkeeping for a variety of business profiles.
CONTENT DESCRIPTION AND KEY CONCEPTS:
The student will learn to manage the bookkeeping functions for a variety of companies, using all the modules of the program (exception Payroll) to deliver financial results for the most simple to a complex company. The student's skillsets will move beyond basic data entry of daily transactions to create a complete set of books for a variety of businesses.
CERTIFIED SKILLSETS: This course provides further insight to:
structure chart of accounts to meet the needs of company management in a variety of profiles
produce a wide variety of financial reports understanding how to use the tools provided to set up, manage and report on accounts receivable, accounts payable and inventory
understand how accounts are linked and how linking can utilize the powers of the system to increase productivity
know how to prepare a bank reconciliation using the automated utility program
be familiar with procedures involved in maintaining the general ledger and related sub-ledgers
be familiar with special pre-established reports
be familiar with the various miscellaneous tools
KNOWLEDGE BUREAU TOOLS INCLUDED:
MARKS ALLOCATION:
| | |
| --- | --- |
| Quizzes | 50% |
| Case Studies | 25% |
| Final Exam | 25% |
| Passing Grade | 60% |
| Honours Achievement | 90% |