T2 Corporate Tax Preparation for Small/Medium Enterprises
Tax Planning
By: Evelyn Jacks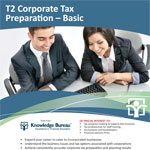 PROGRAM: Tax Services Specialist, Business Services Specialist
If you are charged with the preparation of corporate income tax returns for small businesses, you need to be confident in the process and your skills beyond the preparing of the tax return. This course will provide you with an understanding of the business structure issues and tax options that underlie the taxation of corporate income so the return will not only be prepared accurately – but with a view to minimizing tax and identifying planning opportunities on a timely basis.
It is recommended that students take the Tax Preparation for Proprietorships course and the T2 Corporate Tax Preparation for Micro Businesses course as a prerequisite to this course.
CONTENT DESCRIPTION AND KEY CONCEPTS:
This course serves as an introduction to the preparation of a corporate income tax return small to medium sized businesses. It contains access to the most recent tax changes in the most significant corporate tax education library in Canada: EverGreen Explanatory Notes. It also includes case studies by chapter, introducing the students to variety of filing scenarios, and ends with a comprehensive case study, in which the student prepares an actual return using tax software. The course also includes a practice exam which has marked questions to allow the student to preview their performance, but don't count to the final grade.
CERTIFIED SKILLSETS:
The integration of the personal and corporate tax systems is discussed, introducing tax preparation and planning concepts, both for the corporation and its shareholders.
PRACTICE MANAGEMENT THESIS: Tax changes for the most current tax year included online, together with short answer and case study questions using leading edge software including:
ProFile Professional Tax Suite
DT Max Tax Software
Corporate Tax Interview Checklist
EverGreen Tax Research Software
The Marginal Tax Rate Calculator
Tax Return Estimator
MARKS ALLOCATION:
| | |
| --- | --- |
| Quizzes | 25% |
| Case Studies | 50% |
| Final Exam | 25% |
| Passing Grade | 60% |
| Honours Achievement | 90% |