Accounting for Multiple Business Profiles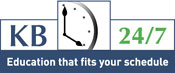 Categories: Bookkeeping and Accounting
Your Instructors: Evelyn Jacks
---
PROGRAM: Bookkeeping Services Specialist, Business Services Specialist
Using the features of SAGE 50 and Intuit Quickbooks Desktop, learn advanced bookkeeping for a variety of business profiles.
CONTENT DESCRIPTION AND KEY CONCEPTS:
The student will learn to manage the bookkeeping functions for a variety of companies, using all the modules of the program (with the exception of Payroll) to deliver financial results for the most simple to a complex company. The student's skillsets will move beyond basic data entry of daily transactions to create a complete set of books for a variety of businesses while understanding the features of SAGE 50 and Intuit Quickbooks Desktop to do so. Current GST/HST rates and reporting are included.
CERTIFIED SKILLSETS: This course provides further insight to:
structure chart of accounts to meet the needs of company management in a variety of profiles;
produce a wide variety of financial reports understanding how to use the tools provided to set up, manage and report on accounts receivable, accounts payable, and inventory;
understand how accounts are linked and how linking can utilize the powers of the system to increase productivity;
learn how to prepare a bank reconciliation using the automated utility program;
learn the procedures involved in maintaining the general ledger and related sub-ledgers;
become familiar with special reports pre-established in SAGE 50 and Intuit Quickbooks Desktop and formatting options;
utilize the various miscellaneous tools provided in SAGE 50 and Intuit Quickbooks Desktop by Sage.
KNOWLEDGE BUREAU TOOLS INCLUDED:
MARKS ALLOCATION:
| | |
| --- | --- |
| Quizzes | 50% |
| Case Studies | 25% |
| Final Exam | 25% |
| Passing Grade | 60% |
| Honours Achievement | 90% |