Debt and Cash Flow Management
Investment & Retirement
By: Stephanie Holmes-Winton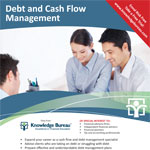 PROGRAM: Investment and Retirement Services Specialist
This course is designed especially for financial advisors who want to specialize in helping clients develop strong personal net worth statements by managing debt and establishing a savings process.
WHY IS THIS COURSE TIMELY?
Debt is a large problem in many households. Wealth advisors need to see where the debt lies, how to help the client use debt in a healthy manner in order to accumulate, grow and preserve wealth.
CONTENT DESCRIPTION AND KEY CONCEPTS:
This course focuses on the relationship an advisor has with a client who is contemplating taking on debt or is struggling with debt. The student will learn how to help the client set realistic expectations, prepare sample client service agreements, identify actions the client must focus on, discuss back up plans for short-term changes and help the client keep on track.
CERTIFIED SKILLSETS:
The student will know how to:
Integrate debt & cash flow data collection in to traditional planning approach.
Determine the types of debt and the facts about that debt which need to be collected.
How to manage credit as part of a financial plan and determine how the different types of debt can impact credit scores.
The effects of credit on a client's financial agility.
How to assess probable credit worthiness prior to referring to lending professionals.
Work with home owners to determine risk of amortizations over 25 years, and identify what's best – fixed vs. variable rates, determine down payments, appropriate use of personal loans, when consolidation loans make sense.
Construct a cash flow management plan.
How to include All-In-One's as part of the financial review process.
How to reduce client exposure to the real risks of increasing interest rates.
KNOWLEDGE BUREAU TOOLS INCLUDED:
MARKS ALLOCATION:
| | |
| --- | --- |
| Quizzes | 50% |
| Case Studies | 25% |
| Final Exam | 25% |
| Passing Grade | 60% |
| Honours Achievement | 90% |