T2 Tax Preparation for Professional Businesses
Tax Planning
By: Larry Frostiak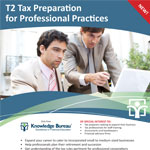 PROGRAM: Business Services Specialist
WHY IS THIS COURSE ESPECIALLY TIMELY?
It is a time of great change in the incorporated professional services, from a demographic point of view, as more professionals plan their retirement/succession. In addition, Finance Canada has changed many rules around the taxation of incorporated small to medium sized businesses. This course will highlight those rules and frame proper planning and compliance issues for busy professional tax and financial advisors charged with assisting these businesses.
CONTENT DESCRIPTION AND KEY BENEFITS:
The student will demonstrate the following competencies:
Chapter 1: You will gain an understanding of the tax rules pertinent for professional corporations, including access to the Small Business Deduction limit, and taxation of income within a corporation
Chapter 2: You will gain comprehension of how the Income Tax Act rules apply to tax self-employed professionals versus incorporated professionals
Chapter 3:You will gain an understanding of the corporate structures utilized for small to medium-sized professional corporations, including various forms of share capital
Chapter 4:You will review and u detest and the various rules imposed by different provinces and their respective professional organizations in relation to the incorporation and ownership of the incorporated practice
Chapter 5:You will gain an understanding of how tax integration works between the corporation and its shareholders, including the ability to income-split, defer tax and reduce the overall tax burden
Chapter 6:You will learn the various ways to incorporate HR benefits for the practitioner and family into the corporate model, including group benefits, health spend accounts
Chapter 7:This chapter will review and provide you with insight into commonly utilized succession and retirement strategies for the owner manager
Chapter 8:Thus chapter will explore and discuss the various means by which the owner manager might sell their practice. You will gain an understanding of the alternatives and the related tax issues and ramifications
Chapter 9:This chapter will enable you to gain an understanding of the factors inherent in structuring sale, including financing considerations and the issues related to removing redundant assets with a view to utilizing the Lifetime Capital Gains Exemption
Chapter 10: A summary of the top ten strategies for succession planning will be reviewed so that the advisor will have an appreciation and understanding of the key issues in transitioning the business for an incorporated professional
EVALUATION COMPONENTS:
Chapters end with multiple-choice and true-to-life scenarios found online, which test the practical application of the key concepts covered in the course, using professional software tools and calculators. A review before the examination, called the Practice Management Thesis (PMT) prepares the student with a consolidated case study testing the practical application of course work. A final exam is required for certification and examination.
MARKS ALLOCATION:
| | |
| --- | --- |
| Quizzes | 25% |
| Case Studies | 50% |
| Final Exam | 25% |
| Passing Grade | 60% |
| Honours Achievement | 90% |
Recommended Reading - Additional Educational Resourcse:
Knowledge Bureau Report – weekly e-newsletter for breaking tax and investment news.
Financial Literacy Books – Master Your Investment in the Family Business