Programs & Courses
The most comprehensive source of continuing education for financial and tax professionals in Canada
An Outstanding Educational Experience
An Educational Institute Designed Especially For: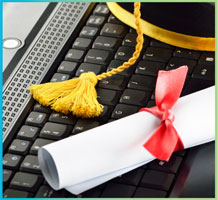 Experienced advisors in the tax accounting & financial services who seek professional development.
Employees seeking certification in income tax preparation (personal and corporate), bookkeeping, accounting, retirement & wealth advisory services.
Sole practitioners who wish to build a multi-faceted professional practice with their designations.
Employees who want to advance in their existing careers or are looking for something new.
New immigrants and the newly retired who seek qualifications to work in the tax, accounting or financial services.
Our World Class Virtual Campus Allows You To:
Participate in a blended learning environment, online studies, in-class workshops and inter-advisory conferences. A great way to consolidate knowledge and build personal confidence. . .24/7.
Become a highly qualified practitioner through a certification and designation process, using technology and tools you can immediately implement. This builds client trust, confidence and referrals.
Evolve the best practices of your firm and all the associates in it, ensuring business growth and succession through new knowledge applications in your chosen field.
Specialize in five specific areas of expertise: tax, bookkeeping, investment & retirement, succession & estate planning and business services under two designation streams: Distinguished Financial Advisor and Master Financial Advisor.
Coming soon: New for 2014, experienced professionals may challenge the new RWM (Real Wealth Manager) designation which provides practice management skills for lead advisors who oversee the strategic plan an inter-advisory team of professionals follows.
Under the Real Wealth Management framework, firm partners and managers, employees, and new recruits learn to follow a strategic wealth management process to enable a consistent process for managing the accumulation, growth, preservation and transition of tax efficient income and capital. Look for the introduction of the Institute for Real Wealth Management™; coming soon.
View Courses
Everything is included in your tax-deductible tuition
| | |
| --- | --- |
| Lesson plans, personal study plan | |
| Personal instructor support | |
| Valuable e-journals, software and calculators | |
| 24/7 access to online quizzes, case studies | |
| EverGreen Explanatory Notes: Tax Research Library | |
| Knowledge Bureau Calculators: Wealth Management Tools | |
| Start on your terms, risk free | |
| Tax-deductible tuition and payment plans to fit your budget | |
| Testing, CE accreditation and certification | |
Learn More: Your online course components:
Study with professional software:



Study with professional software:


Study with professional software:

Study with professional software:

Study with professional software:

An Outstanding Educational Experience
My objectives were to train on unincorporated small business tax returns for my new tax preparation business. My expectations were met. Enjoyable.
Adam J., MB
---
I am currently putting our entire office through a variety of knowledge bureau courses. They are the best of what is out there for in office training.
Bernadette M., AB
---
My objective in taking this was to continue learning so that I can better serve my clients with simple sound advice that works. My objectives were met with a very simple and clear process the has proven results.
Rodney J., BC
---
My objective in taking this was to to understand the theory behind Managerial Accounting. All the key areas of managerial accounting was covered in this course. It was a GREAT course that can be taken according to my own schedule.
Akbar P., ON
---
Very well organized and interesting. I learned a great deal of information on an extremely important topic, both for myself and my clients. Thank you!
Richard R., SK
---
A well-organized and comprehensive course written in simple, easy to understand language. The audio presentation is excellent as well.
Richard L., ON