Financial Markets Meltdown - Severe Credit Crunch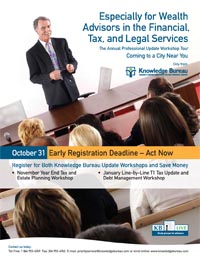 Don't miss KB National Workshop tour with Evelyn Jacks and John Poyser
Media Passes Available: Contact The Knowledge Bureau toll free: 1-866-953-4769.
Investors and taxpayers will be looking around every corner for help with debt management this year. The tax system may in fact be the best place to look for new cash flow to shore up over-leveraged assets. The Knowledge Bureau will be presenting two nationwide, day long, educational workshops to discuss issues and strategies.
The first, this November highlights year end tax planning opportunities in light of the unprecedented events in the financial markets, as well as new investment opportunities. The second, in January, will overview the latest tax changes and discuss in detail, the tax consequences of personal, investment and business debt management.
The dates are:
November Year End Tax Planning Update
Nationwide Workshop Tour Dates and Venues
January Tax Update and Debt Management Workshop
Nationwide Workshop Tour Dates and Venues
Register for both workshops by October 31 and save!