Preservation
---
Tax Efficient Asset Transfers
The average retirement is 20 years and this calculator lets you look at the duration, financially speaking, after tax. It helps layer income over a period of years to determine what tax brackets your clients will be in, how income sources affect net and taxable income, and what is left, after tax, if anything.

It also identifies return of capital required over the period to meet needs and wants, or, if there is plenty of money, the redundant amounts that can be reinvested on a safe, tax-efficient basis.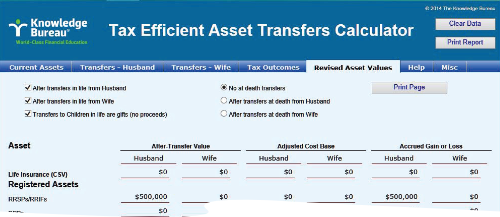 Marginal Tax Rate Calculator
Use this tool to quickly determine the average tax rate, marginal tax rate and tax bracket your client is in today, based on their income levels. This will help to determine your client's current tax picture so that you can structure future income sources with tax efficiency.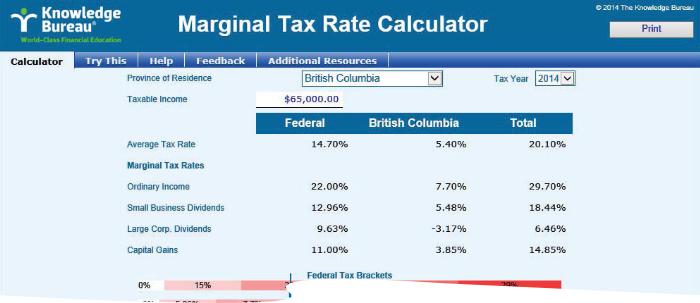 Fixed vs. Variable Income Calculator
Planning for consistent, reliable income is the best way to protect capital in retirement, but this is more difficult when the retirement period coincides with a period of low or negative returns in the marketplace. Retirement income planning seeks to optimize fixed and variable income sources, but when the client relies on sources that fluctuate in value or in producing income, retirement income is unpredictable, causing the client stress.

By zeroing in on the retirement withdrawal equation and how to supplement cash flow gaps without eroding capital away in the process, this calculator will help advisors and clients make decisions about the return of capital options.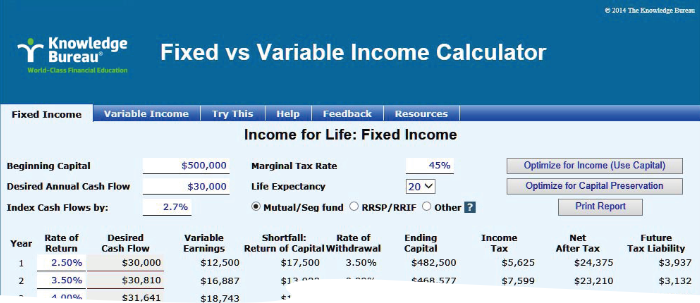 CPP Income Calculator
Should your client draw from the CPP early? This calculator helps you answer that question by determining break-even points along the way while explaining the rule and criteria changes that take place in current and subsequent years.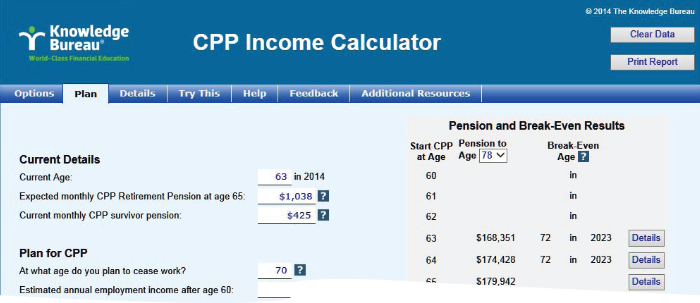 Debt Reduction Calculator
This calculator assists in determining the amount of income available to service debt and then provides opportunities to calculate maximum mortgage payments, fixed-term mortgages, and all-in-one solutions.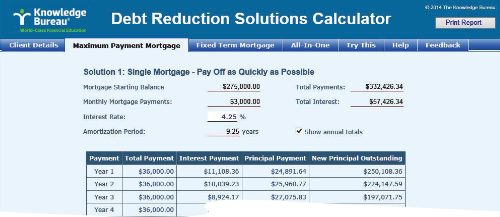 Cash Flow Calculator
Cash flow and income are two different things, but your client may only see it as how much do they have to spend each month. The difference is the real money they get to keep after taxes. Calculate all the income sources—taxable, non- taxable, a return of capital, and windfall—to better understand where the money comes from for different purposes.