Thought Leadership: Five Tips on Building Team Culture
For many organizations – especially those in the tax and financial services – now is the time to build team culture in advance of a busy season of client interaction. Success of the team depends on so many factors including the right skills, processes and evaluation. For leaders of the team, there are five essential steps to building team culture in good times and bad.

So just how do you build a team culture that accomplishes maximum participation towards a single vision for success and common goals, especially in times of great stress?
Here are the five steps, as discussed in Knowledge Bureau's new certificate course, Business Leadership, Culture, and Continuity which is found in the MFA-Executive Business Growth Specialist program:


Establish your leadership - This refers to your own role as the founder, leader and master keeper of the vision. Before you can start building an effective team, you need to develop the right kind of leadership skills yourself. This does not mean asserting authority, but rather fostering trust, honesty, integrity and transparency in your leadership style (do what you say you will do). If your employees trust your judgement, they will not only follow your lead, but also work effectively when you are not around.
Establish relationships with each employee - Get to know your people as individuals. This means learning their skill-sets, what motivates them, their work habits and future goals. Regular, ongoing communication on a one-to-one basis will be an effective way of achieving this. This knowledge will prove extremely valuable to you, as it allows you to match each employee's expertise and competencies to your organizational plan, and will help increase both productivity and job satisfaction. Additionally, including your employees in decision making as much as possible instead of just delegating tasks, giving them open-ended projects where they select the process and timelines and determine the best solution, will ensure you are developing your people along with the company.
Build relationships between your employees - As your team begins to work together in harmony and cooperation, examine the way they work together and communicate with each other to see how you might encourage a deepening of the inter-relationships of your team members. Stronger relationships between your employees also means deeper trust and respect. If there are conflicts, try to resolve them amicably by encouraging them to understand each other's perspective and mediate where necessary. One way to do this is to brainstorm solutions, which also helps empower them and may lead to new creative solutions to a problem.
Foster teamwork - Once you have established relationships with and between your employees, you will be able to focus on helping them work together effectively. Encourage your team to share information both amongst themselves and within the larger organization. Having an effective communication system and not being afraid to ask your team members how they feel can go a long way to improving teamwork. Knowing and understanding what others are working on and how they are contributing to the vision and success of the organization helps improve working relationships.

Compare countries where the leaders take the time to meet and understand each other's culture and challenges (like the G7) with those who try to operate isolated from the rest of the world, and you will understand how better solutions come from working together toward a common goal with regular, ongoing communication.
Evaluate performance - You will be able to assess your team's performance not only on a fiscal basis, but also in terms of how effectively they display and preserve the values and culture of your company. This means that you will be able to evaluate the performance of your team as a whole alongside their individual performance. While great financial KPIs (Key Performance Indicators) and positive bottom-line results are one measurement of success, the turnover rate of your employees will also provide an indicator of whether you are operating with a high-performing team. We have all seen companies that have a revolving door of employees and are constantly in a training mode, so that their ability to focus on the longer term is challenged. On the other hand, a company with a well-developed and cohesive team and employee tenure above industry averages is very valuable in a succession plan.
No matter how smart, talented, driven or passionate you are about your business, your success as a leader depends on your ability to build, inspire and sustain a team – and get results. You are accountable to that, and the stakes are high. Just consider the recent firing of the Anaheim Ducks' coach, or the recent troubles experienced by the British and Canadian Prime Ministers who have challenges within their teams.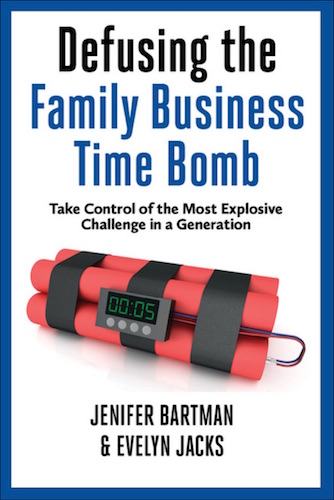 Thought leadership: The successful leader is one who can recruit and grow a great functional team who are motivated by the leader's vision and plans to execute on it. There is no doubt that functional teams outperform individual greatness by a very high margin. But just as true, is that dysfunction within the team needs to be quickly recognized and nipped in the bud. That's even more important when you know that rough waters could lie ahead.
Interested in learning more? Enrol and start online now: completion of the Business Leadership, Culture, and Continuity course provides credits towards the MFA – Executive Business Growth Specialist program.
Additional educational resources: Business leaders, you'll also want to get your hands on Defusing the Family Business Time Bomb by Evelyn Jacks and Jenifer Bartman! And be sure to join us at one of this year's Business Builder Retreats – taking place this June in Winnipeg, and in Puerto Vallarta in November in conjunction with the Distinguished Advisor Conference; the conference for leaders.
COPYRIGHT OWNED BY KNOWLEDGE BUREAU INC., 2019.
UNAUTHORIZED REPRODUCTION, IN WHOLE OR IN PART, IS PROHIBITED.