Keeley Simpson, B.Comm, CIM
Associate Portfolio Manager & Wealth Advisor
BMO Nesbitt Burns Inc.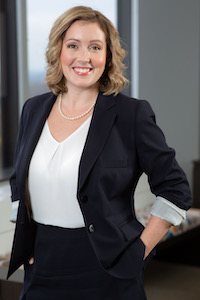 Keeley Simpson joined BMO Nesbitt Burns in 2007. She is a native Montrealer and graduated from McGill University in Finance & Accounting with a Bachelors of Commerce. Currently, she lives in Toronto with her husband Will and their growing family (their son Connor, their daughter Charlotte and their two loving dogs, Duke & Oscar). Keeley is expecting a third baby (another girl) at the end of July. She specializes in working with professional women and delivers educational seminars to women investors at various associations and companies. As a portfolio manager on the team, Keeley is responsible for investment research, portfolio management and client relationship management.

In 2015, Keeley was recognized with the "The Distinguished Young Advisor Award" presented by the Knowledge Bureau. She was invited to speak on a panel at the annual conference in November 2015 in Puerta Vallarto, Mexico. In 2016, Keeley was recognized by her management team and nominated for the "IIAC Top under 40 award". The IIAC Top Under 40 Award recognizes and celebrates the new generation of highly motivated and talented young professionals whose drive, dedication, qualities and accomplishments have brought distinction to the investment/financial industry.

As part of her commitment to the community, before starting a family, she volunteered at a few different organizations including the McGill Women's Alumnae Association, the McGill Alumni Association of Toronto and the Crohn's Colitis Foundation of Canada.