A Void Exists in Helping Business Owners with Succession Plans
Are you looking to increase your multi-generation client base? Here's an obvious need and a huge void: 70% of private company owners in Canada plan to either transfer or sell their businesses when they retire—but many don't have a plan in place. In fact, almost half plan to pass ownership to the next generation, but of those, 47% of them don't have a succession plan[i]. You can fill this big void by advising family business and we have a targeted CE course to help you do that.
Opportunity
It is unfortunate that the majority of family businesses do not survive past the first or second generation because the loss is felt not only by the family that relies on t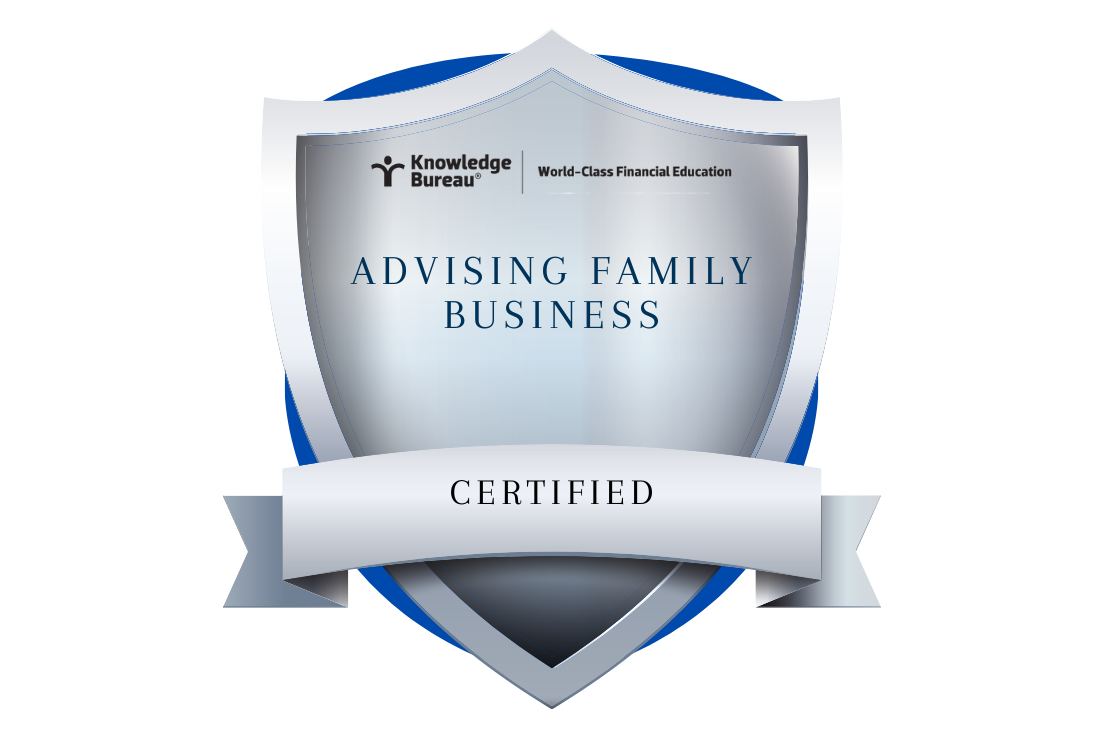 his income for financial stability, but also Canada's economy.
As a distinguished advisor, you will take a leadership role in quarterbacking the process of helping family businesses plan for today and tomorrow, thereby protecting what is often their most valuable asset. You'll help your clients beat the succession odds by better understanding the planning process today.
What You Will Learn By Taking This Knowledge Bureau Course
You will understand the advisory needs of family businesses, in terms of their unique opportunities and challenges, and learn how to work in alignment with your family business clients, increasing the likelihood that solutions will be implemented.
You will work with clients to identify and separate family, business and ownership issues. So that all aspects of a family client and their company can function smoothly, you will help your client set clear, shared goals.
Implementing principles of Real Wealth Management into a family business, clients will have a major impact on their financial stability. You will learn how to help clients identify an ideal planning timeline, how to conduct succession mapping processes, how to recognize roadblocks to implementation before they occur, how to develop and lead an advisor team, and how to maximize your value while identifying potential advisory opportunities.
"My objectives were definitely met. I particularly appreciated the detail of walking through the process using the Succession Map tool offered with this course."
—Delores M., SK
What's Included
• Personal course selection consultation
• Virtual campus orientation
• Lesson and study plans
• Personal instructor email support
• Comprehensive Knowledge Journal
• EverGreen Online Research Library
• Knowledge Bureau calculators
• Testing and certification
CE | CPD Credits
Knowledge Bureau | 30 CPE credits
Bottom Line: Family-owned businesses have a lot of emotion to it and may not always be about the dollars and cents. As an advisor you can differentiate yourself in understanding their business, their relationships, and providing great value into transitioning them into the next generation.
Enrol now in the Advising Family Business course. It is just one of six courses needed to earn your DMATM – Retirement Income Services Specialist Designation.
This highly important topic will also be discussed at the upcoming November 16th Virtual CE Summit.
---
[i] Once in a Lifetime Moving Canadian private and family businesses forward https://www.pwc.com/ca/en/private-company-services/assets/pwc-canada-once-in-a-lifetime-report.pdf
©Knowledge Bureau, Inc. All rights Reserved