Debt Rises 88.3%: Canada's Debt Rating Downgraded
Evelyn Jacks
It's a good news/bad news story. First the bad news: On June 24, international credit ratings agency Fitch, one of three big credit rating firms based in the U.S., downgraded Canada's pristine Long-Term Foreign Currency Issuer Default Rating rating from triple A to AA+ because of our greatly increased government debt. It expects that debt will rise to 115.1% of gross domestic product (GDP); an increase of 88.3% in 2020 over 2019 results. So, what's the good news?
There are several items: the agency expects us to recover over the medium term and neither our big banks, debt ceiling or short-term debt ratings were downgraded. . .yet.
A credit agency's downgrade is essentially a reassessment of a country's credit-worthiness and both taxpayers and investors want to keep an eye on this. For taxpayers, governments' biggest line item for revenue used to pay its debt is taxes. When tax revenues go down because of job loss, loss of business revenue or aging demographics, governments need to do one of two things: raise taxes and/or borrow more money from others.
They can do this by issuing bonds, for example, but those bonds will only have value if economies grow. If they don't, the bonds are "junk". Borrowing from other sources also becomes more expensive if credit ratings fall. This cuts into the social benefits countries can provide their citizens.
While we don't expect Canada to default on its obligations, Fitch warned about the high levels of debt at all government levels in Canada in March 2019, a year before the pandemic. At that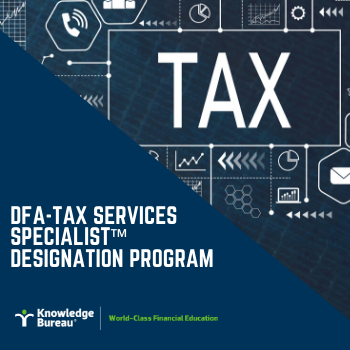 time Fitch noted ". . .disappointing 4Q18 growth numbers and weakening macroeconomic outlooks in major global economies including Europe, China and other major emerging markets point to downside risks for the Canadian economy."
Now we face a federal deficit of over $260 billion dollars for 2020, according to the Parliamentary Budget Officer. Higher taxes, more expensive debt servicing costs and a long road to fiscal recovery could certainly be ahead of us.
Despite our PM's assertion that it is too early to present a full fiscal update and mid-to-long-term projections for economic recovery, international credit ratings, like Fitch, appear to already be doing so.
We'll be reporting on the federal government's "fiscal snapshot" on July 8, and how the Finance Minister responds to concern about future taxation and investment concerns in light of this development.
Additional educational resources: Learn an essential service, become a DFA-Tax Services Specialist™, and provide the tax guidance Canadians need now more than ever.
COPYRIGHT OWNED BY KNOWLEDGE BUREAU INC., 2020.
UNAUTHORIZED REPRODUCTION, IN WHOLE OR IN PART, IS PROHIBITED.