New Gift Planning Designation for Advisors Now Available
The Canadian Association of Gift Planners (CAGP), Knowledge Bureau and Spire Philanthropy are pleased to announce that all three online courses in the MFA-P™ - Philanthropy designation program are now available. The program has been developed over the past year by some of the most experienced leaders in charitable giving. Graduates with these specialized credentials in strategic philanthropy, will be well equipped to pursue new opportunities to build trust by better understanding their clients' values and critical personal causes.
In doing so, qualified advisors will also address a trend that is increasingly important to investors of all ages. Using their new skills in approaching the gifting conversation with a professional process, they will be better positioned to provide high-value advice that enables philanthropic goals. The three courses in the program, outlined in the detailed Program Guide , will address three key benefits for advisors and their clients found in the first two courses in the program:
How to incorporate philanthropy into their practice in pragmatic terms
How to focus on gift planning strategies and vehicles that are relevant to the client's goals
How to integrate client goals with the right solutions by understanding the charitable sector better.
The third course in the program features exposure to practical case studies and strategies used by some of the most experienced charitable gift planners in the country.
Individuals and firms interested in enrolling their advisors in the MFA-P™ designation program may do so now and take advantage of firm-wide discounts as well when two or more advisors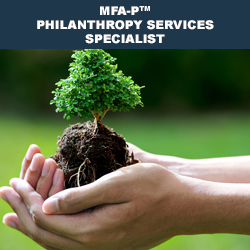 pre-register online as a group.
The flexible program features personal instructional support and includes all materials to complete the course and testing requirements. Time to be spent on the program varies with individuals, but an estimated 60 hours over a one-year period is the recommended study period.
"We are delighted to announce the completion of this online program for registration this month," says Evelyn Jacks, President of Knowledge Bureau. "All of our partners and faculty members have worked hard over the past year to develop a designation program that will be of particular value to advisors working with high net worth clients, as well as those who want to tap into the investment preferences of clients who put social impact on the top of their investment policy statements."
"We are excited to see our dream of a designation program at CAGP come true with the birth of the MFA-P™ Philanthropy Designation Program," says Ruth MacKenzie, President and CEO of CAGP, "and look forward to welcoming advisors from all sides of financial services."
"I am looking forward to working with firms and advisors to engage in this important industry designation that will add further trust and credibility to the work of advisors, and impact on charities in Canada," - Brad Offman, CEO of Spire Philanthropy. Firms interested in offering the program may wish to schedule an information session on the MFA-P™ - Philanthropy Designation. Please contact Brad Offman at brad@spirephilanthropy.com.
To enroll in the new online program please see the MFA-P™ landing pages , or for personal assistance please contact Knowledge Bureau at 1-866-953-4769.
ABOUT CAGP – THE CANADIAN ASSOCIATION OF GIFT PLANNERS
The Canadian Association of Gift Planners is the only organization in Canada that brings together charitable representatives with professional advisors in one association. Among our fundraising, tax, legal and financial peers, we are looked to as the experts in strategic charitable gift planning.
The 20 CAGP Chapters across the country are essential partners in achieving CAGP's vision and mission, by building and leveraging local relationships and engaging members to strengthen philanthropy and strategic charitable gift planning. Comprised of and serving CAGP's 1200+ members across the country,
Chapters provide education and professional development designed for charitable gift planners, professional advisors and senior decision-makers, the opportunity to network and connect with their peers and colleagues at the local level is one of the most important and valuable benefits of membership in CAGP.
Local Chapters also offer an array of other initiatives designed to build on local opportunities and address local needs, issues and priorities, such as mentorship programs, LEAVE A LEGACY™ events, newsletters and e-communications.
For information about CAGP, please visit www.cagp-acpdp.org
ABOUT KNOWLEDGE BUREAU
Knowledge Bureau™ is a widely respected, financial education institute and publisher based in Canada. Our mission is to raise standards of practice by focusing on the evolving knowledge and skills required by professionals to manage their client's wealth with tax efficiency. We do that by providing competency-based training leading to certification, diplomas and designations, with certification marks licensed annually to graduates who have attained specialized proficiencies and follow professional Standards of Conduct.
Founded by tax expert, award-winning financial educator and best-selling author, Evelyn Jacks in 2003, our world-class education solutions feature an academic approach to professional development designed for financial intermediaries in a multi-disciplinary framework. Knowledge Bureau is recognized by the CRA and Human Resources and Skills Development Canada. Tuition fees are tax-deductible if over $100. Professionals may attain ongoing CE/CPD Credits, train staff or advance professional careers by demonstrating new skills in seven specialized fields. This includes the MFA™ (Master Financial Advisor) Designations, the MFA-P Philanthropy Designation, the Distinguished Financial Advisor™ Designations and the RWM™ (Real Wealth Manager) Designation.
For more information see www.knowledgebureau.com or call 1-866-953-4769
ABOUT SPIRE PHILANTHROPY
At Spire Philanthropy, we offer an innovative approach to relationship building between corporations and charities. We work with a variety of public, private and not-for-profit organizations to build long-term, meaningful relationships that have a sustainable, lasting impact.
Our basic philosophy at Spire Philanthropy is to build stronger partnerships between the corporate and charitable sectors. In order to create these partnerships, a new paradigm must be created; one where both corporations and charities recognize value and benefit equally from it. The funder-receiver paradigm, where the power in the relationship rests with the corporations, undermines the very definition of partnership.
In a true partnership, each side must understand the other's motivations and see value in the relationship. Our vast experience in both corporate community investment and non-profit management are the keys to our deep value proposition. We understand the motivations of each partnership and by doing so, and we are able to seek true common ground.
As corporations become more strategic with their community investments, and with charities trying to maximize their limited resources, we work with both parties to develop partnerships that create real value, both intrinsic and financial, for all.
For more information see spirephilanthropy.com
ABOUT THE MFA-P™ PHILANTHROPY DESIGNATION PROGRAM
REQUIRED: COMPLETION OF THREE ONLINE COURSES
A. COURSE 1 - INTRODUCTION TO STRATEGIC PHILANTHROPY
1. Module 1 Why Families Give – Emerging Philanthropic Trends
2. Module 2 The Role of the Advisor
3. Module 3 Ways to Give: Tax Aspects of Charitable Giving – Personal, Corporate, Trust
4. Module 4 Current Gifts: Tax Implications – Personal, Corporate
5. Module 5 Deferred Gifts: Tax Implications – Insurance, Trusts and Estates
6. Module 6 Accountability Templates: What a Successful Plan Looks Like
7. PMT (Practice Management Thesis): How to incorporate philanthropy into your practice in pragmatic terms - a fulsome case to demonstrate your client-centric skills.
8. Exam (honours gold bar standing with 90% attainment) .
B. COURSE 2 – UNDERSTANDING THE CHARITABLE SECTOR
1. Module 1 – The Charitable Sector Landscape
2. Module 2 – Emerging Philanthropic Trends
3. Module 3 – How Charities Operate
4. Module 4 – Funding of Canadian Charities
5. Module 5 – Legal and Ethical Considerations
6. Module 6 - How to Plan for Impact
7. PMT (Practice Management Thesis): Demonstrate how to integrate client goals with the right solutions by understanding the charitable sector better.
8. Exam (honours gold bar standing with 90% attainment) .
COURSE 3 – INTEGRATING GIFTING WITH CLIENT-CENTRIC PLANNING
1. Module 1 – Multi-stakeholder Planning
2. Module 2 – Working with Vulnerable Clients
3. Module 3 - Guaranteed 10 Pay Insurance Gift
4. Module 4 – Legacy Planning for Business Owners
5. Module 5 – Donation of Existing Life Insurance Policy
6. Module 6 - Using FTS to Lower the After-Tax Cost of Charitable Donations
7. Module 7 – Using Insurance to Make a Major Gift Today While Ensuring a Legacy for Family
8. Module 8 - Using the CPP for Philanthropy [1]
9. PMT (Practice Management Thesis): Demonstrate your practical experience in developing gift planning strategies with a variety of client scenarios.
10. Exam (honours gold bar standing with 90% attainment) .
To view the lesson plans for each of the courses, you can view the MFA-P™ Philanthropy Designation Program Guide.
INDIVIDUAL TUITION FEES: INTRODUCTORY OFFER: $995.00 plus taxes.
GROUP RATES:
1. Groups of 2 Save 10% each - $895.50 each PLUS Taxes
2. Groups of 3 – 5 Save 12% each - $875 each plus taxes
3. Groups of 6 or more Save 25% - $745 each plus taxes
4. National license may be negotiated.
[1] Featuring the CPP Philanthropy™ Strategy, owned by WEALTHinsurance.com.
COPYRIGHT OWNED BY KNOWLEDGE BUREAU INC., 2019.
UNAUTHORIZED REPRODUCTION, IN WHOLE OR IN PART, IS PROHIBITED.