6 Reasons to Attend the May 20 Virtual CE Summit
The May 15 enrolment deadline for the Virtual CE Summit taking place on May 20 is approaching fast. After this, the walk-up rate of $695 applies for all new and returning students. That's a good reason to act now! But here are 6 more reasons why Retirement, Estate Planning & Budget Updates this May will help you get better results and simplify your efforts with clients.

Reason #1 - The Speakers are Exceptional
You'll hear 5 incredible presentations: priceless information on the measures proposed in the April 19, 2021 federal budget provisions and how they will affect tactics for sound retirement income planning in a post-pandemic world. Topics include:
Tax Issues in Managing Capital Assets with Evelyn Jacks
Personal Pension Planning During Pre-Retirement with Jean-Pierre Laporte
Retirement Income Layering and Portfolio Risk Management with Douglas V. Nelson
Estate Planning with Life Insurance with Abe E. Toews
True-to-Life Case Studies on Working with Executors with Kristin Ramlal and Evelyn Jacks
Reason #2 - Connect with Like-Minded Professionals
This Live Virtual session puts tax, accounting and wealth advisors from across Canada in touch with a personal network of like-minded professionals. We've also added a Tax & Financial Professional Support group the beginning of the day's agenda so you can vent and share stories about a very complex tax season!
Reason #3 - Help Canadians Who are Rethinking Their Retirement Plans
A recent study from IG Wealth Management indicates that many Canadians are rethinking their retirement plans. One-third said that the effects of the pandemic wo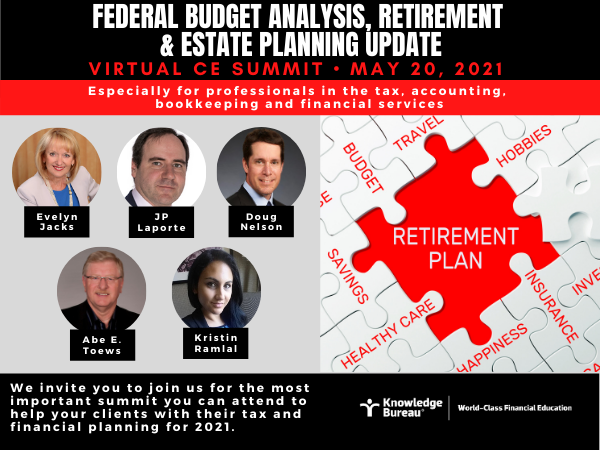 uld cause them to delay their retirement, and two-thirds of those in pre-retirement said they'd now prefer to remain living at home. These factors are likely to change pre-pandemic retirement investment and savings goals due to possible changes in income levels during the pandemic, and the amount of money needed to get them through retirement. You'll become certified to help Canadians in need of sound advice to prepare for their futures.
Reason #4 - Everything is Included. This Virtual CE Summit has four parts:
Part 1 – Let's Talk! Meet your national "Tax and Financial Pro Support Group" and share stories about your tax season
Part 2 – The Virtual Instructor-Led Session on May 20 – you can attend and earn 10 CE credits, plus the recordings will be available as part of the online course, until June 28
Part 3 – Knowledge Bureau's Retirement and Estate Planning Update Online Course will be available May 21. Earn 20 more CE credits upon completion and learn valuable tools that will help you in your practice!
Reason #5 - Save Money on Tuition Fees with Every Enrolment with Your VIP Grad Bonus & Meet Relicensing Requirements
We've introduced a new VIP Grad Bonus that allows you to save on tuition fees with every enrolment – including in this Virtual CE Summit which counts as a single certificate course! You'll automatically receive your tuition fee reductions on your next enrollment in a CE Summit, DAC, Certificate Course or Program through the Virtual Campus. Which category are you in?
Designation Grads (or graduate of 6+ CE Summits) – Save $250
Diploma Grads (or graduate for 4 or 5 CE Summits) – Save $150
Enhanced Certificate Course Grads (or graduate of 2 or 3 CE Summits) - Save $100
Certificate Course Grads (or graduate of a single CE Summit) – Save $50
*Note: VIP Grad Status tuition reductions do not apply after the final enrolment deadline for single attendance live events. Walk-up rates apply. This is a great reason to ensure you sign up before May 15!
Plus, this CE Summit (live event + course) qualifies for 30 Knowledge Bureau Designate Re-licensing Requirements and the deadline is coming up on June 30, 2021.
Reason #6 – Past Attendees Give the Virtual CE Summits Rave Reviews!
"Very interesting and up to date information. I am sure that ANYONE taking this course would be able to take away something meaningful." KASSANDRA KLASSEN
"Loved the fact this was a virtual seminar! I found all of the speakers chosen for this seminar to be very well informed, they were qualified professionals which made it an absolute pleasure hearing them speak." DIPAK RANCHOD
"The presenters did a fantastic job! I both learned important information and was reminded of things that will be important in the coming months! Awesome job!" CARLA PIERCE