Asset Management and The Price of Lettuce
The price of lettuce in Canada – up over 35% in a year – is still an eyebrow raiser, despite the easing of the inflation rate in January to 5.9%, according to Statistics Canada. What does that have to do with Asset Management? Simply that 2023 is proving to be a tough financial year and advisors need to up their game to manage the concerns of anxious taxpayers and investors who are tapping into portfolios to pay for inflation and recent interest rate hikes, and coming up soon – their tax bills.
A great way to do so is Knowledge Bureau's new CE Savvy PD™ Micro Course Collections Series. These collections of fully accredited micro-courses take a deep dive into curated and relevant tax and financial planning subjects that your clients need your help with. And you will earn valuable CE Credits while you take an hour a day to explore one planning concept at a time.
One collection that is becoming increasingly popular for advisors and those in the financial space is: CE SAVVY PD™ ASSET MANAGEMENT COLLECTION .
Why?
Courses in this collection are extremely timely, such as Currency: Issues in Managing Costs and Risks. With Canadians doing more digital banking and investing online (while facing higher costs that are not always obvious) wealth can be eroded and can skew good portfolio outcomes. In addition, significant Canadian currency fluctuations can change short and long-term financial plans. Advisors can help by identifying these costs and risks, to ensure that investment strategies are employed proactively. This approach will add value, especially as the financial landscape continues to change.
Other courses in this collection include:
Real Estate: Principal Residence: The ownership of a principal residence is an important cornerstone of family wealth building and there is significant tax advantage as well. With recent financial market volatility, many clients may have, or perhaps are thinking of selling one or more of their principal residences.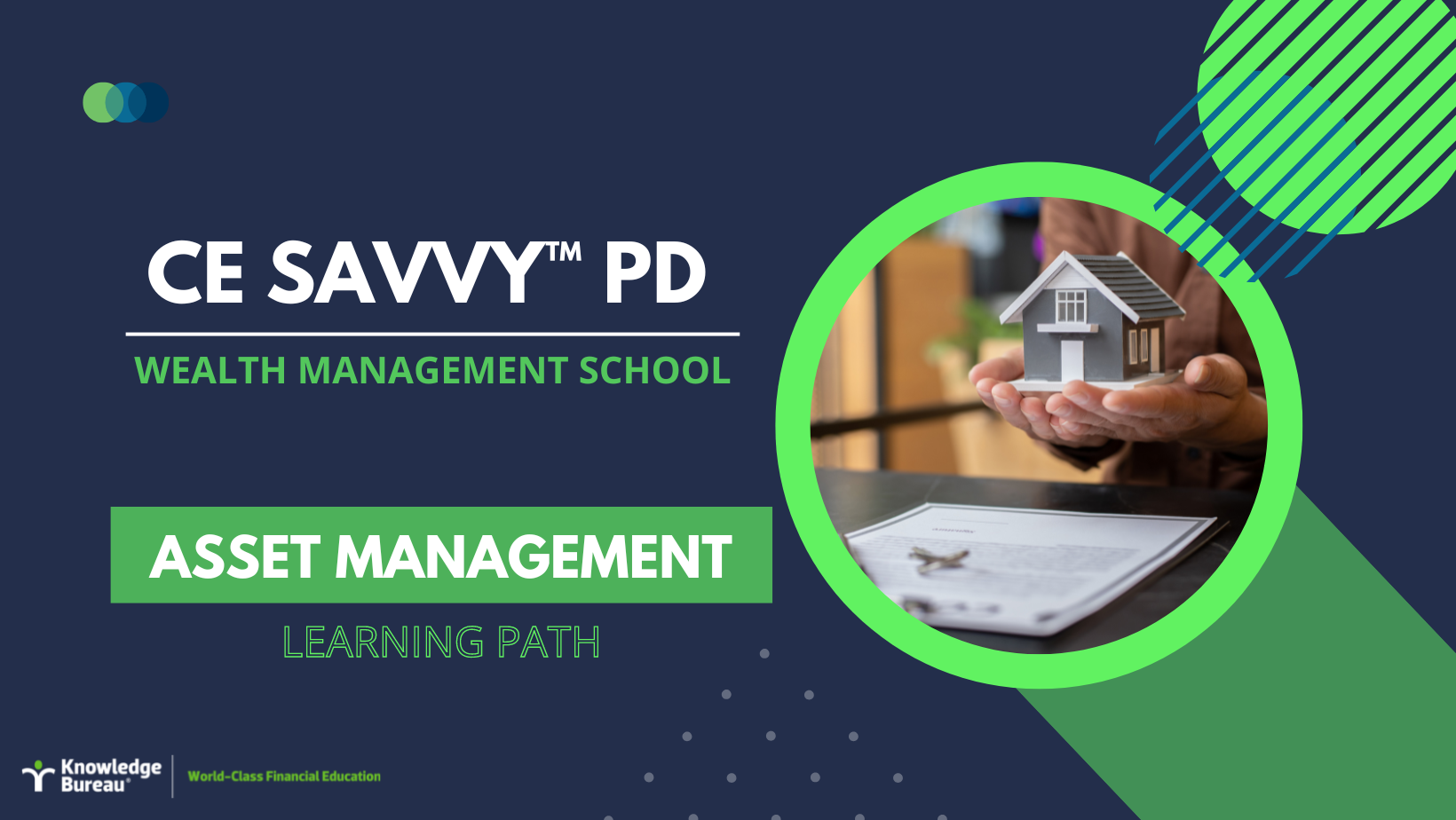 Real Estate: Rental Properties: Many investors have recently increased their net worth by investing in real property and renting it out to others. This is an especially important source of income and a way to manage risk especially during a prolonged bear market. Plus, there are numerous tax benefits of owning and improving real estate that is rented to others.
Portfolios: Effective Risk Management: In this course you will understand why it's important to engage in the portfolio risk management discussion with your clients on a regular basis and gain a better understanding of the impact of investment decisions on capital retention and growth.
Cross-Border Issues: Canadians and US Investments: You will learn how certain investments are treated on both sides of the border, tax consequences of transferring some investments from one country to another, and if certain investments are better than others for non-residents.
ENROL IN THE ASSET MANAGEMENT COLLECTION NOW
Act by February 28th and get this collection for only $245 and pay only $49 per course!
Want an ALL ACCESS PASS to over 50 CE Savvy PD™ accredited micro-courses for one low annual payment? Act now and get the one-year subscription for only $745. A savings of 25%. Use promo code CESAVVYPDACTNOW to activate this offer.
Click here to Subscribe Now.
ACCREDITATION OVERVIEW:
Knowledge Bureau courses qualify for a tuition credit on Canadian tax returns if over $100.
These collections are accredited with Knowledge Bureau, ICM (Insurance Council of Manitoba), and most professional organizations in the tax, accounting, bookkeeping and legal industries.
As of January 1, 2023, CE Savvy™ PD and Biz Ed collections will be accredited with AIC, IAFE, FP Canada and MFDA.

©Knowledge Bureau, Inc. All rights Reserved