Avoiding Conflicts of Interest: Advisor Education is the Vital Link
Recently, an article in the Globe and Mail regarding The Australian Royal Commission into misconduct in the banking, superannuation and financial services industry caught my interest. It provided perspective on the Royal Commission's findings and recommendations, as well as comments from Ian Russell, President and Chief Executive Officer of the Investment Industry Association of Canada (IIAC). On closer look at the final report, there was something new to consider in combatting misconduct.
The commission had a mandate to review and determine whether or not there was evidence of conduct and activities by financial institutions and financial services firms in Australia that did not meet basic standards and expectations of conduct that the general public would assume and most certainly be entitled to. Its final report was submitted to Australia's Governor-General on February 1, 2019, roughly thirteen months after its establishment in December 2017.
Commissioner Hayne said this about the fundamental role of education and training in the provision of financial services on page 171 of the final report:
"I said in the Interim Report, and remain of the view, that prevention of poor advice begins with education and training. Those who know why steps are prescribed are more likely to follow them than those who know only that the relevant manual says, 'do it'."
He goes on to comment further," I believe that, as they (the report's recommendations) come into effect, the new education requirements will improve the quality of advice that is given, and improve the way that financial advisers manage the conflicts of interest with which they are faced."
His comments here, and in other areas of the report, certainly underline the importance of education and training in providing the necessary foundation, knowledge and perspective, not only to learn the information and follow the right steps, but to learn how to properly apply new knowledge to various situations.
But it is his comments on the link between a proper education and the ability to help manage conflicts of interest that advance a larger issue: it's really how one applies new knowledge that is important, both in day-to-day transactions and when managing issues with potential ethical concerns.
At Knowledge Bureau, we fully concur. We are proud to provide our customers with an academic path to continuing professional development leading to specialization. These deeper studies that enable specialization equip our graduates with the knowledge and tools they require to deliver on their promise to their clients to bring high value advice as well as implementation of the right solutions. Our training, both online and in-class is designed to provide new knowledge and skills with an emphasis on how it can be applied most effectively with longer term results.
And while we see a commitment to education and training from Canadian financial institutions and financial services firms, we also know there are distinct changes in consumer needs that are impacting their services today, and will inevitably have an even larger impact in the years to come: their lives are increasingly complex.
We know that customers are looking for deeper relationships that involved "high value" discussion with their advisors; many are no longer interested in a selling or product-based relationship model. We also hear from our students and enterprise clients that customers are looking for more detailed knowledge and expertise to make financial decisions in what often are very complex areas.
These real changes place new demands on our enterprise clients and our students, and for these reasons, we have been proactively developing and expanding our educational offerings to help directly address wha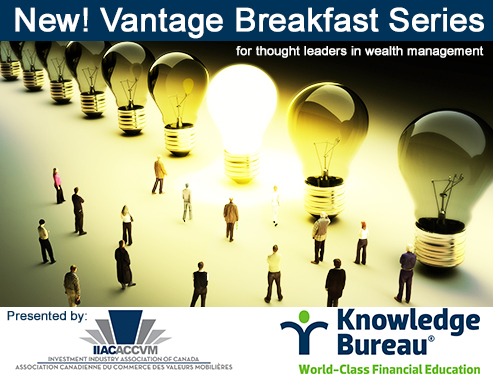 t we see happening in today's market and even more so, the marketplace of the future.
Specifically, we are bringing new designation programs to our enterprise clients and our students, in areas such as philanthropy (MFA-P™), where we see an increasing demand from today's more affluent client. We also have developed and honed the Real Wealth Manager ( RWM™) designation program to help prepare all of our enterprise clients and our individuals students to manage and grow their businesses in an inter-disciplinary, holistic wealth management model that specifically trains the "trusted advisor" in the centre of a multi-stakeholder approach.
In short, to survive and thrive in an emerging new economy in which real people from multiple generations need to make complex financial decisions, we are committed to building new and exciting educational programs designed to train knowledgeable and skilled financial advisors to consistently implement solutions while avoiding conflicts of interest.
As we continue to evolve our programming to better serve you and by extension, your clients, we would welcome the opportunity to have a conversation about your initiatives in 2019 and the years ahead. It is through a better understanding of your businesses – and the link that dynamic continuing professional development brings - that we can enable a standards-based, conflict free environment with you. In collaborating and sharing our respective perspectives on the issues and initiatives that affect the financial services, we also want you to know that you are invited to think globally with us, in an effort to better serve your future customer.
Dale Lacombe is Managing Director, Enterprise Solutions for Knowledge Bureau.
For additional information: https://financialservices.royalcommission.gov.au/Pages/default.aspx
https://www.royalcommission.gov.au/sites/default/files/2019-02/fsrc-volume-1-final-report.pdf
Additional educational resources: Join Knowledge Bureau and IIAC President Ian Russell at the new Vantage Breakfast Series for thought leadership in wealth management. The inaugural event is taking place in Toronto on May 9 at the National Club. Register before April 15 to take advantage of early bird rates!
COPYRIGHT OWNED BY KNOWLEDGE BUREAU INC., 2019.
UNAUTHORIZED REPRODUCTION, IN WHOLE OR IN PART, IS PROHIBITED.