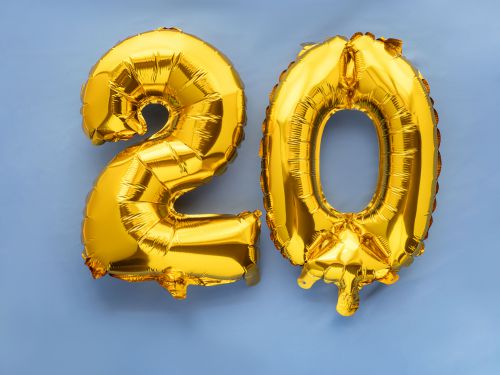 20th Anniversary Contests – Get Involved!
It's been a fantastic two months here at Knowledge Bureau celebrating the big 2-0...our 20th anniversary! With so much on the horizon this year you will want to get involved!
Stay tuned for the announcement of our Marquis Client Award List, which are students who have taken the most Knowledge Bureau courses.
We would also like to collect your photo if you have graduated from Knowledge Bureau over the past 20 years so you can be on our Graduate Wall of Fame. Please send in a photo of yourself so we can celebrate with you and in doing so, you will will also receive a $100 KB Credit. Email to darryl.lazarenko@knowledgebureau.com.
Here's a detailed list on the remaining 20th Anniversary Special Events:
Knowledge Bureau 20th Anniversary Special Events
Month
Special Event
How to Participate
February
Class of 2003 - 2023; Where are they now?
Send in your picture to darryl.lazarenko@knowledgebureau.com
March
Honor Roll #1

Check Your Official Transcript! Did you graduate with Honors – 90% or more? Send in your Profile and receive a $300 KB Credit plus enter the Grand Prize Draw: a free registration to come to DAC Nov. 12 to 14 at the Banff Springs Hotel. Value $1995.

3 Winners to be announced, one from each: Certificate, Diploma and Designation Programs

April
Millionth Certificate
Which certificate and year was it?
May
KB Tax Trivia Contest
Answer Skill Testing Tax Questions and recieve prizes with a grand prize winner.
June
Honor Roll #2

Check Your Official Transcript! Did you graduate with Honors – 90% or more? Send in your Profile and receive a $300 KB Credit plus enter the Grand Prize Draw: a free registration to come to DAC Nov. 12 to 14 at the Banff Springs Hotel. Value $1995.

3 Winners to be announced, one from each: Certificate, Diploma and Designation Programs

July
Favorite Instructor Award
Vote in our Summer Poll
August
Open Mike Award
More details to follow
September
Honor Roll #3

Check Your Official Transcript! Did you graduate with Honors – 90% or more? Send in your Profile and receive a $300 KB Credit plus enter the Grand Prize Draw: a free registration to come to DAC Nov. 12 to 14 at the Banff Springs Hotel. Value $1995.

3 Winners to be announced, one from each: Certificate, Diploma and Designation Programs

October
Distinguished Master Advisor
Celebrate Your Lifetime Achievements
November
Transformative Change Award
Get out of your comfort zone - be part of the Knowledge Bureau Transformative Change competition – do you have a special skill, or business success story you'd like to share? Send it in with your 1 minute video
December
IMAGINE! The Advisors of the Future
More details to follow
©Knowledge Bureau, Inc. All rights Reserved