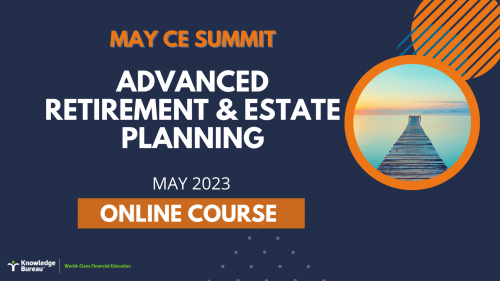 Did You Miss the May CE Summits? Access the Incredible Education!
Did you miss the May 24 Virtual CE Summit? You can still sign up for the Advanced Retirement & Estate Planning Update Course and access the live speaker recordings from the event. Plus, line up your educational calendar for the year with a CE Summit Event Pass and take advantage of the best available tuition rates!
Please note: the course will be available on May 24 after the conclusion of the live event. Session recordings will be available by May 26.
What is the Advanced Retirement & Estate Planning Course?
An outstanding online course to consolidate your knowledge and help you retain it with quizzes to make you think and learn. Take a month to finish your program and earn 20 CE Credits in Tax Efficient Retirement Income Planning. You'll get to view the live speaker presentations from the virtual event will help you bring this knowledge to life.
Advanced Retirement & Estate Planning Update Course - Online Course Content
Chapter 1 – Retirement Income Pillars 2023-2024
Chapter 2 – Understanding Private Pension Plans
Chapter 3 – TERIP – Tax Efficient Retirement Income Planning
Chapter 4 – Planning for Survivors
Chapter 5 – Preparing for Sale of Business
Chapter 6 – Using Trusts – Basics
Chapter 7 – Alter Ego Trusts
Chapter 8 – Spousal Trusts
Chapter 9 – Filing Trust Returns Including GRE's
Chapter 10 – Snowbirds U.S. Gift & Estate Taxes
The course includes access to your Tax Tips Toolkit! The new KB Tax Tip Toolkit gives you fast answers to your tax questions. Receive three great solutions at one great price: professional tax research library, powerful tax planning calculators, and CE accreditation.