Gender Equality: Gaps Remain in Leadership
New data shows that tracking gender pay gaps is not a priority for Canadian businesses, despite government efforts to bring the issue to the forefront.
While women are starting to make major strides in the financial services, especially accounting (as we reported in April), with wages doubling over the past few decades, there's still work to be done to level the playing fi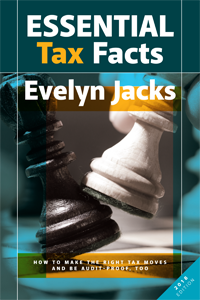 eld in other industries.
The Canada-United States Council for Advancement of Women Entrepreneurs and Business Leaders commissioned a survey of human resources professionals in Canada and the U.S. and found that just 39 percent of Canadian companies had accurate data on gender pay differences. The survey also found that 48 percent of Canadian companies said they do not have accurate data on the percentage of women at the management level.
While a number of factors are supporting the growth of female professionals in the financial services field, this information eliminates some of the potential opportunity for women to thrive. And businesses would be well served by encouraging this kind of career development because women-owned service-industry businesses are experiencing higher growth rates than those owned by men, which demonstrates their leadership potential.
Canadian women are ready to lead in the tax and financial services industries that have typically been male dominated –clearly exhibited by the powerful examples of female thought leadership at the Distinguished Advisor Conference last week. Business owners should take advantage of the educational opportunities available to women with these aspirations, to empower the development of tomorrow's leaders, regardless of gender.
A great place to start is by enrolling in Knowledge Bureau's new Business Builder Retreats. The next one is being held in Winnipeg, June 22-23. Call 1.866.953.4769 to register.
Additional educational resources: Two programs, The Real Wealth Manager Program and the MFA – Executive Business Growth Specialist Program, can help women set themselves apart as trusted specialists in their industry. Study online to obtain skills that will lead to further growth in your career. Can't make the Winnipeg Business Builder Retreat? We'll be hosting a second one in 2019, right before DAC in Puerto Vallarta, Mexico!
COPYRIGHT OWNED BY KNOWLEDGE BUREAU INC., 2018.
UNAUTHORIZED REPRODUCTION, IN WHOLE OR IN PART, IS PROHIBITED.