Graduate in the News – Zay Aquino, DFA – Tax Services Specialist™
If you've ever been to the Knowledge Bureau headquarters, you've probably met Zay Aquino. Zay is not only an honours graduate of Knowledge Bureau's DFA – Tax Services Specialist™ designation, but also our very own Accounting Manager. Zay's educational journey is an interesting story.
Zay is the type of person people instantly like. He's always ready with a smile for everyone he meets, and his sense of humour kicks in when the opportunity arises.
When asked about his experience studying with Knowledge Bureau, Zay said, "I have a background in accounting, but when I moved to Canada and started working in Knowledge Bureau's accounting department, I knew I needed to expand my education to include a strong knowledge of the Canadian taxation system. Knowledge Bureau allowed me to learn more about Canada's tax system while having the freedom to study online and at my own pace."
Zay's trademark grin sneaks onto his face and he adds, "Like the rhyme; 'no more classes, no more books, no more teacher's dirty looks…'"
Serious again, he adds, "Aside from badly needing to learn more about Canada's tax system, it so happened that Knowledge Bureau has an incentive for its employees to enrol in courses and to pursue furthering their education. When Knowledge Bureau gave me this opportunity, I did not let it pass by."
I sat down for a few minutes with Zay to ask him a few more questions about his experience earning his designation.
What did you find difficult or challenging? "Coming from a background in accounting, I already had a lot of the necessary working knowledge for the courses, and the modules in every course I took were easy to understand. I didn't really have any challenges or difficulty."
How did you feel when taking the courses? "I felt relaxed, and my increased knowledge of the Canadian taxation system made me feel more confident to do my job."
What did your family think about the amount of time spent? "I did not take away from much of my family time in taking my designation. One good thing with taking an online course with Knowledge Bureau is you can study anytime and anywhere as well as study at your own pace."
When I asked Zay if he was happy with the outcome, he smiled and pointed at his framed certificate boasting his designation hanging proudly on his office wall. "Yes, I passed… with honours."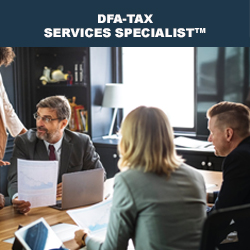 What are your future goals? "To enrol to another designation like the MFA™-Executive Business Growth Specialist Program to increase my knowledge in business development and planning. I also plan to encourage my children to take some basic courses on tax and relating to investment and retirement so that they can build a strong foundation on this matter at an early age."
What is the glimpse of wisdom you can share with our readers? "In today's fast-moving and ever-changing world, we also need to constantly evolve to stay competitive and relevant in your field of work. We need to understand the situation and adapt to the sudden change brought by uncertainty. Make it a practice to constantly learn new skills that are useful to you to be able to stay on top and step out of your comfort zone and try new things and not being afraid to fail."
The DFA-Tax Services Specialist™ provides thorough training through comprehensive income courses that cover all aspects of personal income tax filing and planning from basic to complex scenarios and is a great option for people who want to differentiate themselves in the tax accounting industry with deep and broad tax knowledge.
Additional educational resources:
Free trials of Knowledge Bureau courses are available, so try them out for yourself. If you work with business clients as a bookkeeper or offer tax preparation services, we also recommend attending Knowledge Bureau's CE Summits for valuable information on Post Budget Action Strategies (Spring), Year-End Planning (Fall), and Advanced 2020 Personal Tax Update (Winter).
COPYRIGHT OWNED BY KNOWLEDGE BUREAU INC., 2019.
UNAUTHORIZED REPRODUCTION, IN WHOLE OR IN PART, IS PROHIBITED.