Graduates in the News: Michael Akpan, DFA
Michael Sunday Akpan of Akpan Corporation in Orleans, Ontario, graduated from the DFA – Bookkeeping Services Specialist Program and enthusiastically shared how this education has helped him reach new goals in his business: "I am successful because I have a vision for a better life. I have the power to do something incredible!"
He says the DFA – Bookkeeping Services Specialist Program helped him believe in himself by supporting him in attaining his goals, and enhancing his knowledge: "I am now very confident in preparing the entire accounting/bookkeeping process, from the original book of records to income statements and balance sheet of Akpan Corporation."
He highlights the difference between learning theory, and learning effective implementation: "I decided to register with Knowledge Bureau because, even after attaining my Bachelor of Commerce degree, I felt unprepared. While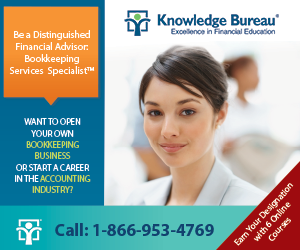 taking the courses, I learned there is a big difference between understanding the theory behind how accounting and tax planning work, and the actual implementation of that information. I had many years of experience taking courses and training, and I understood the theory of how things worked. However, implementing it … I felt weak."
Michael outlines how the technical skills he learned in the courses helped him offer better counsel and advice, using a more holistic approach within his company: "What surprised me about the courses was the outcome. I found that understanding the mechanics significantly improved my ability to communicate my accounting and bookkeeping planning strategies."
He gives a Knowledge Bureau education his stamp of approval: "I am not hesitant in recommending Knowledge Bureau to my friends, and to anyone who may looking for top-notch accounting, tax and financial planning courses!"
When asked about what to expect from Knowledge Bureau's online 24/7 courses, he answered as follows:
What did you find challenging? "My challenge area was processing 'adjusting entries' which I can now proudly say I am good at. I was diligent in my study habits because I knew there would be challenges along the way. I tried to stay the course of a weekly routine, continue with my study time plan and ensure I have a weekly goal."
Did anything surprise you in the courses? "The way the course materials were presented surprised me because they were easy to understand. Due to the Knowledge Bureau methodology, I learned how to study smarter, not harder. Each study time was presented with a specific goal. I knew exactly what I needed to accomplish in each chapter and I did not procrastinate."
How did you feel when taking the courses? "I felt optimistic and confidence grew as I went along. Taking my designation was a great opportunity, and it was going really well. I found myself stopping from time to time to take a few deep breaths in the midst of something difficult. I then felt empowered to finish whatever I was doing."
What did your family think about the amount of time spent? "My family has always been supportive of my studying. In implementing my study plan, I made sure I made time for my family. They felt that the amount of time would be a reward in the long run."
What are your future goals? "My future goal is to become an MFA–Business Tax Services Specialist. Presently, I am studying toward the Designation. Each designation has different requirements and will benefit me and Akpan Corporation greatly. Thank you Knowledge Bureau!"
What is the glimpse of wisdom you can share with our readers? "What if, instead of spending hours each evening watching television, you allocated as little as 30 minutes a day to self-improvement, where could you end up in a year from now? "
Additional educational resources: Enroll in the DFA – Bookkeeping Services Specialist Program to focus on the professional development that will benefit your clients and your business!
COPYRIGHT OWNED BY KNOWLEDGE BUREAU INC., 2018.
UNAUTHORIZED REPRODUCTION, IN WHOLE OR IN PART, IS PROHIBITED.