Graduates in the News – Paula Baker, DFA-Tax Service Specialist™
Paula Baker has been working in the tax service industry since 2005. In 2010, she opened her own Liberty Tax franchise, and later pursued her DFA-Tax Services Specialist™ designation with Knowledge Bureau, after selling her franchise to work from home. Even with a wealth of experience she chose to enhance her education, because: "When I first entered the world of taxes I quickly realized that knowledge was important. Taxes are complicated, and Knowledge Bureau allowed me to expand my knowledge which, in turn, allowed me to support and guide my clients in the right direction. I worked through the courses and now have my designation."
When asked about the experience opening her own business, she said, "I opened my own office because it allowed me to build relationships with my clients and offer my knowledge and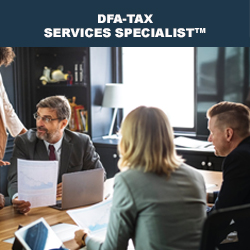 experience to help them achieve the best possible tax return."
When asked about her experience pursuing her designation with Knowledge Bureau, she said:
Why did you decide to take KB courses?
"Deciding to take courses from the Knowledge Bureau was an easy decision. The convenience of online and the self-paced method of learning was a perfect fit for my lifestyle. It also gave me the opportunity to stay up-to-date on new areas providing me with the knowledge to build great client relationships."
Did anything surprise you in the courses?
"I think the biggest surprise for me was that once I started on a course, I found it hard to put down. Access to the other tax books available became part of my library very quickly. The in-depth coverage of specific topics was a great reference point for me."
What are your future goals?
"My goals are to continue expanding my knowledge. Recently I was given the opportunity to come on board with Knowledge Bureau as an instructor, and it has been a fantastic learning experience."
What is the glimpse of wisdom you can share with our readers?
"Knowledge gives us the confidence to reach our goals and excel at what we do."
Additional Educational Resources: Earn your DFA-Tax Services Specialist™ designation by enrolling by June 15th, or take a free trial today.
COPYRIGHT OWNED BY KNOWLEDGE BUREAU INC., 2019.
UNAUTHORIZED REPRODUCTION, IN WHOLE OR IN PART, IS PROHIBITED.