Graduates in the News – Troy Harrison
Troy Harrison of Winnipeg, shares why investing in education as an advisor, isn't just about career advancement. Education also helps advisors forge trust with clients. His focus now is to cultivate and nurture his client relationships and inspire other advisors to do the same.
Troy related his interesting start in the financial services: "I became an educator of finances back in 2010. Why? Because 20 years prior, I was touched by a mentor, friend and a financial educator. Information is powerful. By continuing your education, you can support your clients and give them access to information they may not otherwise receive."
Troy further commented on the role that education plays in shaping perspective: "I believe that it's important for any client, that the person from whom they seek advice should be well informed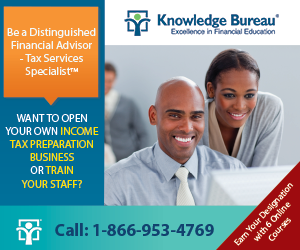 and have more than one perspective. It will help to expand their understanding of complicated issues and how they relate to their life stage. It is necessary for professionals, who are in a position of trust, to provide a basic education in personal finance, tax situations, wealth management and succession/estate planning to each client. By continuing your own education, you can support your clients and give them access to information they may not otherwise receive and ensure that your advice is accurate and up-to-date."
He appreciated the convenience offered by Knowledge Bureau 24/7 online courses: "I decided to take Knowledge Bureau courses because the format and delivery method allows for learning at my own convenience. I was able to comprehend and review the course material at my own speed. In addition, I was able to courses specific to a designation and I was able to learn a new skill set to enhance my overall level of service."
When asked if anything surprised him Troy responded, "I have completed other CE credit courses in the past and none were comparable to the Knowledge Bureau program. It was a pleasant surprise and I found the course material comprehensive and in-depth. The courses were extensive but not overwhelming. I did not hit a point where I felt I could not continue."
He found the course material often engaged him: "Some of the courses were like reading a good book. I just couldn't stop reading. When the material was interesting and applicable to my clients, I'd spend more time. As an entrepreneur, I don't have a normal schedule so when I had a block of time, I would use it wisely. Sometimes on a Saturday, I'd spend the entire afternoon, reading this great book from Knowledge Bureau. I have taken classes at university, but I had to sit in a classroom and listen to a professor. The topics were interesting but it wasn't a good use of time."
When asked about his future goals: "My goal is to continue to expand my knowledge and experience in to order to provide a comprehensive, high-level of service. My focus is to cultivate and nurture my relationships and offer friendly support, advice and information. I feel that when I approach my relationships as "partnerships" that is vital to their success and my success, clients will feel valued, appreciated and special. When my clients feel this, they will recommend and refer me to everyone they know!"
The glimpse of wisdom Troy wanted to share with our readers? "Never forget where you came from and what you went through to get to where you are. Think back to that time before you started on the path of knowledge and how grateful you were to the person (s) that helped you take your first steps. Now be that person for somebody else."
Interview by Nancy Folliott, Assistant Manager of Publishing at Knowledge Bureau.
Additional educational resources: Take the first steps in becoming a better educated resource to your client on all matters tax-related. Free trials of courses in the DFA – Tax Services Specialist program are offered.
COPYRIGHT OWNED BY KNOWLEDGE BUREAU INC., 2018.
UNAUTHORIZED REPRODUCTION, IN WHOLE OR IN PART, IS PROHIBITED.