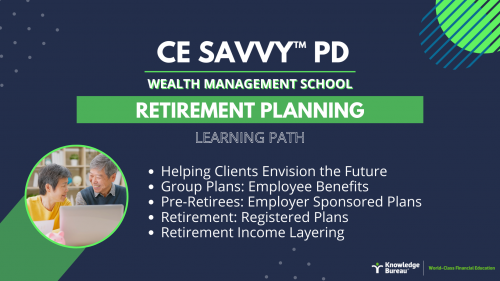 Micro-Course Collection: Retirement Planning with a Holistic View
Help your clients envision their plan for the three stages of retirement based on a holistic, values-based strategy and a consistent process for articulating and measuring a plan to its objectives. This will involve several different approaches to new conversations with clients as you help them set objectives for life, financial and economic milestones after work life. Expand your skillset to help your clients navigate retirement planning with the new CE Savvy™ Collection: Retirement Planning.
Check out our collection entitled Retirement Planning, which provides you a new opportunity to earn 5 CE Credits with Knowledge Bureau and several 3rd party accreditors such as FPCanada, IAFE, ICM, AIC and MFDA. Included in the series:
Helping Your Clients Envision Their Future
Group Plans – Employee Benefits
Pre-Retirees: Employer Sponsored Plans
Registered Plans
Retirement Income Layering
Add value and save time: This CE Savvy™ Collection of micro-courses can also be gifted to your best clients, which is a great way to strengthen your relationship and also extend your "family relationship" to the next generation.
Half price! Use code CESAVVY50 and access this collection at 50% off, this week only!