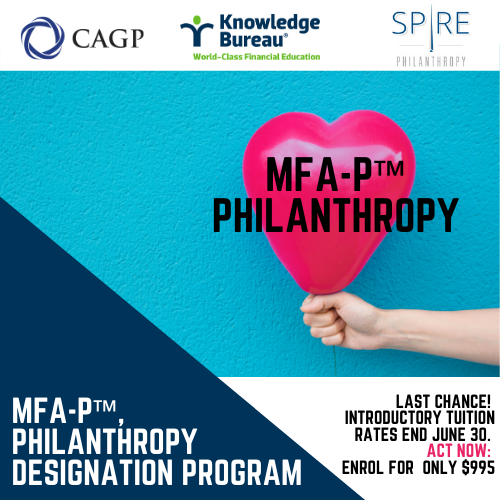 Who is the MFA-P™?
The strategic philanthropic solution taught in the MFA-P™ designation program takes a multi-stakeholder approach to giving. This new designation will empower clients to give more effectively because of their collaboration with you. If you are interested in this credential, be sure to enroll by June 30 and save $500. Here are more program details:
The role of the MFA-P™, is to lead in the development of the strategic plan that will guide all the stakeholders to a strategic philanthropic solution. With the donor in the middle this includes the charity, the various financial advisors, the family and the community. While any one of these stakeholders could attempt to coordinate with the entire team to make sure donor goals are met, the client will generally appoint a specialist based on their skills and the trusting relationship they have with one another, especially in cases where giving is complex.
For these reasons, the MFA-P™ credentials can provide a valuable service to philanthropic families.
If you are interested, enroll by June 30. The introductory $995 tuition rate offer will increase to $1,495 after this.

Knowledge Bureau is proud of this collaboration with The Canadian Association of Gift Planners (CAGP) and Spire Philanthropy to build a professional designation for advisors and their clients who wish to give to their favorite causes more strategically, during their lifetime and beyond.
COPYRIGHT OWNED BY KNOWLEDGE BUREAU INC., 2020.
UNAUTHORIZED REPRODUCTION, IN WHOLE OR IN PART, IS PROHIBITED.