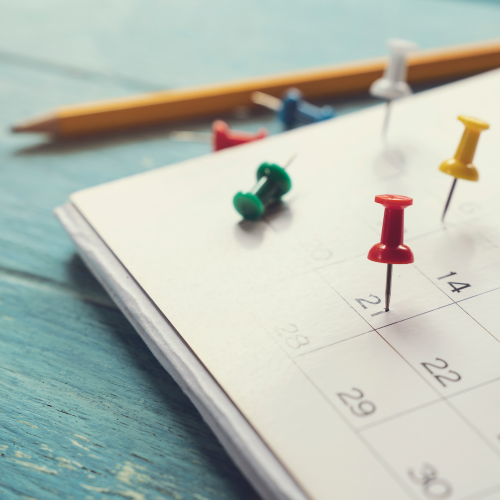 It's Here! The Pro's Tax Season Calendar from Knowledge Bureau
There are 10 key tax filing milestones coming right up in February and March. Have you discussed them with your clients? Check out the Knowledge Bureau Professional Tax Filing Matrix and nudge your clients along to book appointments in advance of what is sure to be a very busy tax season. Plus, there is still time to train new and returning staff on the changes to the 2019 tax return.
KNOWLEDGE BUREAU'S PROFESSIONAL TAX FILING MATRIX
2020 TAX FILING SEASON
January:
Speak to tax advisor and HR department about reducing tax withholdings at source:

File New TD1 Tax Credits Return with Enhanced BPA – Use TD1 Worksheet
T1213 Request to Reduce Tax Withholdings at Source.

Jan 2: Make TFSA deposit for each adult in family and replenish prior year withdrawals.
Jan 3: CWB Advance, GST/HST Credit, CCB payment
Jan 16: Form T1212 - Defer stock option benefits annually if exercised before Mar. 5, 2010.
Jan 17: CRA EFILE and REFILE services close
Jan 30: Make interest payment on inter-spousal loans for immediately prior tax year.
Jan 31: T10 PAR slip due which restores RRSP room in case of exit from DPSP or RPP
February:
Feb 7 – 10: CRA closed for AUTO-FILL, EFILE transmission history, T1013 transmissions
Pre-Prep Appointments - Client Documentation Review:Assemble self-reported casual income from tips, casual employment, no-slip interest income, receipts for discretionary deductions and credits
Feb 17:Family Day in Canada
Feb 24:CRA re-opens for EFILE/REFILE transmissions
March:
March 2: RRSP contribution deadline
March 2: T4, T5 slips due; receive enrollment notice if RRSP LLP withdrawal made in prior year
March 3: CCB Payment
March 16: quarterly tax instalment deadline
March 31: T3 slips due, File Form T1-OVP for Excess RRSP, PRPP, SPP Contributions
Download the PDF version that you can print and share!
Additional educational resources: Learn everything you need to know about T1, T2 and T3 tax filing from Knowledge Bureau by taking a diploma program. Take 3 courses to become a Certified Tax Practitioner for only $495 each until February 15.
Plus – sign up now for the online version of the CE Summits Advanced Tax Update. Only $395 until the end of the month. Call us at 1-866-953-4769 to arrange courses for all your staff members.

COPYRIGHT OWNED BY KNOWLEDGE BUREAU INC., 2020.
UNAUTHORIZED REPRODUCTION, IN WHOLE OR IN PART, IS PROHIBITED.