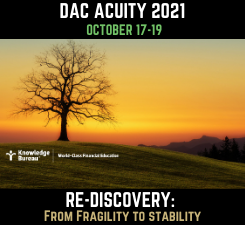 Share the Knowledge: Bring Your Team to DAC 2021
Virtual DAC Acuity 2021, October 17-19 will feature the thought leadership of 8 senior executives, 2 best-selling authors, leading scholars and top wealth advisors. It's an online conference experience that tax and financial professionals won't want to miss. Share the knowledge: enrol yourself and bring your team along at a reduced tuition fee, until September 30.
Team members who attend Virtual DAC Acuity 2021 will receive their own login access to the Knowledge Bureau Virtual Auditorium where the educational sessions and networking activities will take place – or pull up some chairs around your conference room table and enjoy the experience together!
By popular demand, we've made some changes to our team member package at the $995 rate, accreditation and the DAC-in-the-Box are both included so everyone can share in the knowledge and enjoy the meal delivery and goodies included. If you're a larger group, please contact us to inquire about even lower special rates.
Returning students can also still save on tuition by checking out VIP grad status bonuses in the Virtual Campus, and receive early-bird pricing until the September 30 deadline. Act now! You definitely don't want to miss the opportunity to share in the following knowledge:

Why We Need to Do More: The Notion of Ethos with Special Guest Dr. Paul Bates
Practice Management: The Greatest Recovery on Earth with Evelyn Jacks, President, Knowledge Bureau
Investment Planning: What if Conventional Wisdom is Wrong? Featuring Dr. Jack Mintz
Estate Planning: Intergenerational Wealth Planning with Trusts with Christine Van Cauwenberghe
Cross-Border Tax Planning…Global Families: Beware the Multi-Million Dollar Tax Traps with Dr. Dean Smith
Responsible and Sustainable Investment Strategies with Duane Green
Digital Disruption: Social Media Strategies for Leaders with Darrell Keezer
Starting Points: Lessons Learned and How to Build on Them with Joe Glionna, President, Newcom Media
Technology and Transformation: Digital Finance and Its Implications with Som Seif, CEO Purpose Investments
Privacy, Security and the Small Business Owner with Kiran Thakkar, Ast. VP & Sr Business Compliance Officer, Canada Life
Ask the Panel: Ethical Dilemmas with host Chris Logan, Head of Marketing Americas Franklin Templeton, and panelists: Robyn Thompson, President, Castlemark Wealth; Doris Woodman McMillan, Numbers Unlimited; and Al Jones, President, A. Jones Wealth & Estate Planning
Rebuilding Financial Health with Lori Lee, Regional Directory Key Accounts, Manulife Bank
Managing Mental Health: Taking Care of Our Human Resources with Dr. Brian Shaw, Sports Psychologist to the Toronto Blue Jays
Wealth Planning: Are Wealth Taxes on the Horizon? Featuring Kim Moody, CEO, Moody's Tax Law
Dare to Dream Big: Why the Future is Bright for Advisors in a New Economy with Jordy Chilcott, Executive VP, Wealth Strategies, Wellington Altus
Plus, you'll love the perspectives of two outstanding young advisors who are your MCs for the event: Frank Ryan and Sara La Gamba. Visit the interactive online agenda to learn more about these speakers through their bios!