Take in One of the World's Eight Wonders: RSVP for DAC Acuity by February 29!
RSVP now to attend Canada's premiere and longest running strategic conference for professionals in the tax, bookkeeping and financial services and lock in low tuition rates available to you - our very best clients - before the end of this month. But hurry, those rates will rise on March 1, and as always, you are welcome to custom-design your payment plan.
Come for the CE Credits (including IIROC and Insurance Councils), the outstanding speakers and their thought-provoking topics, plus all the incredibly fun networking events (including wine tastings, hiking tours around the 8th Wonder of the World and the World's Best Halloween Party at the Falls!).
And please make sure you attend the Knowledge Bureau's Graduate Ceremony and Dinner honoring our accomplished students and designates, sponsored by Cadesky Tax.
Here are the tremendous low prices we will reserve for you; but we need your RSVP reply by February 29!
Individual reservations: Reserve at only $1,495 when you RSVP by February 29. (Tuition fees will rise March 1 to June 15 to - $1,895)
Team member rate: Pay only $495 when you RSVP by February 29. (These fees will rise to $995 per team member on March 1)

DAC Acuity 2020. Knowledge Bureau's Distinguished Advisor Conference (DAC) is the longest running, independent conference for Canadian financial professionals. For the first time ever, DAC is being held in Ontario! It's highly accessible, in a most beautiful part of the world. There will be lots of opportunities for touring the famous wineries of the region and attend the annual Knowledge Bureau Graduation Ceremony for our graduates and designates. But most of all, the education will be phenomenal!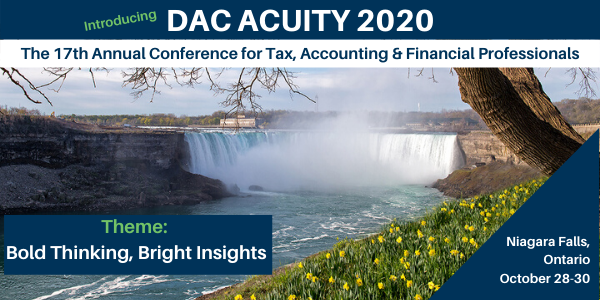 COPYRIGHT OWNED BY KNOWLEDGE BUREAU INC., 2020.
UNAUTHORIZED REPRODUCTION, IN WHOLE OR IN PART, IS PROHIBITED.