Introducing the New DAC Acuity 2020
Canada's longest running conference for top advisors in the tax, accounting and financial services is getting an exciting new mandate. Knowledge Bureau's highly successful DAC (Distinguished Advisor Conference) will morph into a modern new program called DAC Acuity 2020, and will be held in Niagara Falls from October 28 to 30, 2020.
"We are extremely excited to modernize this strategic study of the issues and trends in the tax and financial services to reflect the needs of a new demographic, one that is looking for a streamlined educational experience to fit into busy lives and careful budgets," says Evelyn Jacks, President of Knowledge Bureau.
The content, says Jacks, will continue to focus on delivering content for an advanced level mastery of wealth management in the areas of investment, retirement, successi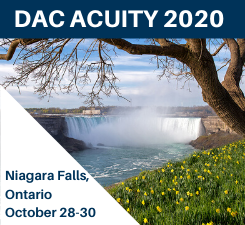 on and estate planning with a sound integration of personal, corporate, and trust tax strategies deliciously infused throughout.
The addition of the name Acuity speaks to the word's very definition: sharpness of thought and vision. "We will invite not just the finest minds to share knowledge as keynote speakers on these subjects; we will also focus on bringing in passionate experts and solution providers to inspire excellence at higher levels year over year."
What's in it for you? " We understand that the precious commodities of time, money, and business opportunity play into the choices that advisors make in selecting educational conferences of high value to them, and Acuity 2020 will aim to maximize all three."
Jacks notes that DAC attendees have been looking for a streamlined experience that is stress-free from a travel perspective and accommodates the heavy time demands of younger advisors and their families. Established advisors also wanted to expose more of their team members to the insightful content and a two-day conference has allowed Knowledge Bureau to make the experience more affordable.
"In listening to the needs of an evolving industry, we are excited to morph the new DAC Acuity Conference into a new innovative learning experience, which will be held in beautiful venues throughout Canada.
The new DAC Acuity 2020 format features an opening reception for networking the evening before the conference sessions, which will feature 10 sessions over the course of one full day, and then one-half day of learning. Check out our new website for DAC Acuity 2020 and these introductory offers:
UNTIL FEBRUARY 15 – TAKE ADVANTAGE OF AN EARLY-BIRD OFFER:
SAVE $300 ON REGULAR FEES – ONLY $1395 PLUS TAX
BRING A TEAM MEMBER OR SPOUSE – ONLY $495
THOSE WHO HAVE EARNED DESIGNATIONS IN 2019 – ONLY $495
SPONSORS – SAVE 25% WITH COMMITMENTS BY DECEMBER 15
P.S. KNOW OF A NEW ADVISOR WHO SHOULD APPLY FOR THE 2020 NEW ADVISOR AWARD? LET US KNOW BY JUNE 30, 2020.
COPYRIGHT OWNED BY KNOWLEDGE BUREAU INC., 2019.
UNAUTHORIZED REPRODUCTION, IN WHOLE OR IN PART, IS PROHIBITED.