Last Day to Enrol for the Virtual Distinguished Advisor Conference!
Be on the forefront of a massive shift in your business: learn how to transform your services to the highly personalized, digital solutions your clients now demand. It's not too late to join advisors from coast to coast in the unique virtual conference and networking experience we have created for you at the 17th annual Distinguished Advisor Conference October 28 – 30 (with access for completion of the program until November 14).
THE BENEFITS OF ATTENDING DAC:
BOLD THINKING: FROM 24 INCREDIBLE SPEAKERS
BRIGHT INSIGHTS: 10 PRE-READING CHAPTERS OF VITAL CONTENT IN ADVANCE OF THE LIVE THOUGHT LEADERSHIP
ACUITY 2020: HUNDREDS OF POTENTIAL NEW IDEAS FROM SPEAKERS AND FELLOW ADVISORS FROM COAST TO COAST
GET RE-ENERGIZED AND HAVE SOME FUN!
LOTS OF VALUABLE PRIZES
Earn up to 30 CE/CPD Credits, Too*
Everything is Included!
Registration deadline to ensure you receive your DAC-in-the-Box Networking Goodies before the event is October 15!
*pending: IIROC and Alberta Insurance Council Determinations
YOUR NEW PERSONAL AND BUSINESS VISION IS WAITING JUST AROUND THE CORNER. Be better prepared to help your clients navigate these times of uncertainty with new credentials and plenty of new ideas.
It's an investment in yourself that you can't afford to miss as we move forward together during this transformative period and set new standards for outstanding wealth management services on the frontlines of change!
DAC contests on the Whova app: if you're signed up to attend DAC, be sure to get in on the fun in the Whova app. Your participation will earn you points and prizes. At the top of the leaderboard is Kareen Rekowski with 5100 points and the photo of the week came from Tammie Gilbert for her beautiful office view. Keep the photos coming!
Here's what last year's attendees had to say about why they come to DAC:
The Presentations From Top Experts In Their Fields.
Sharon Redlick – "Well-planned agenda with top notch presenters portraying their fields of expertise."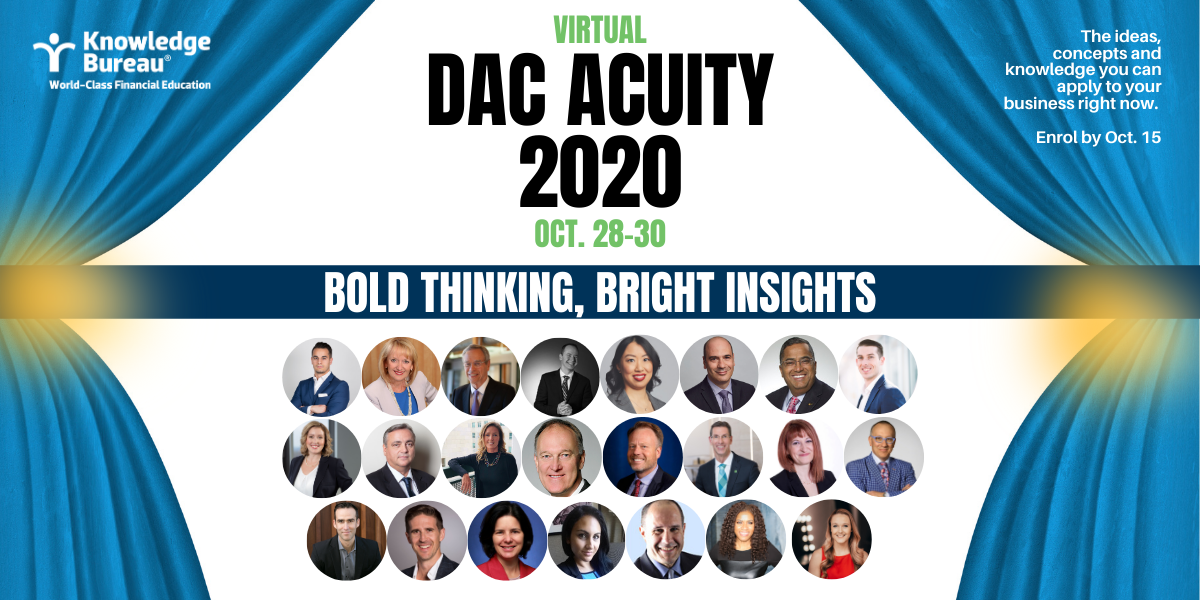 The Idea-Focused Speaking Sessions.
Kelly Hemmett – "I came away with many ideas. Great info as usual and strong speakers, with limited propaganda."
The Great Value.
Tammie Gilbert – "Excellent topics and speakers. I'd recommend DAC: great value and learning opportunity."
The Innovative Knowledge.
Shirley Anne French – "Knowledge is key. All the speakers are very experienced and knowledgeable. When you come to DAC, you will always find a new and innovative way to help your clients."
The Quality of The Content
Margaret Hodgson – "Lots of ideas to think about. I always recommend DAC. I don't attend because of the location – I attend for the content."
Tools to Offer More Value To Clients.
Steven Furtado – "I learned a lot of beneficial tools like PPP that help corporate clients. DAC has equipped me to better serve my clients and prospects."
DAC ACUITY 2020 is the only educational conference for a multi-advisory audience of professionals. Build your network from coast-to-coast, with innovative networking events that begin with DAC-in-the-Box! Enrol today.