The Distinguished Advisor Conference Explores Economic Resilience in Uncertain Times
Is the next recession just around the corner? This week, as G7 leaders grappled* with both jittery stock markets and potential recessionary winds, the talented speakers at the 16th annual Distinguished Advisor Conference (DAC) are preparing to challenge financial advisors to consider how resilient their clients' financial affairs will be in this time of political and economic uncertainty.
"This year, the primary themes at DAC will focus on how advisors can manage their clients' income and wealth to have the capacity to recover quickly – resilience in other words— in today's unpredictable circumstances," says Evelyn Jacks , Founder and President of Knowledge Bureau, host of the annual DAC taking place this year in Puerto Vallarta, Mexico, November 10-13.
Early registration, together with tuition savings for individuals and groups of 2 or more ends September 15. Discounted hotel rates and airfares have been negotiated. Among the critical issues that will be addressed:
How to future-proof your business: Some suggest that while the future of the financial services industry is both under the gun and poised for outstanding success at the same time. But the real question is: are you ready for the ride? Find out how resilient you and your practice really are, and need to be, to capture the best of the interesting opportunities the future holds for you. Duane Green, CEO of Franklin Templeton will focus on the Big Changes Are Coming: What Does It Mean for the Advisor of the Future? in a candid, moderated conversation with advisors in the DAC audience.
How to build a global network . The advisor of the future is also one who is prepared to provide wealth management services that reflect the needs of a diverse client base that embraces cultural differences. Tony Mahabir MBA, CMC, RRC, CIM, CFP, CEO Canfin Financial Group of Companies, will enlighten you to this important opportunity and share his wisdoms on building a cross-border network.
How to Unleash the Secret to Cash Flow Efficiency for Your Clients is the topic that Lysa Fitzgerald , AVP, and Patrick Gill , RVP, Manulife Bank will bring to your attention. Unfortunately, many families are just a couple of hundred dollars away from financial ruin should unanticipated black swan events hit their finances. Yet, most of these same families are unaware of a powerful antidote: the efficient use of both debt and savings accounts to ward off financial threats. Advisors can help – find out how in this practical and eye-opening session.
Taxes, with a global perspective: Taxes are a hot topic. Whether it's cross-border taxation for companies looking to grow or expand beyond the Canadian border, or your client wants to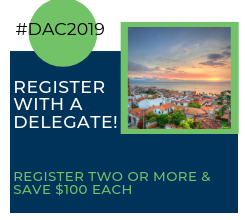 retire to Mexico, there are compliance issues and variables in planning that both you and your clients need to know about. Dr. Dean Smith , partner with Cadesky Tax will talk about cross-border compliance issues at DAC under the topic of Global Tax Competitiveness: The Compliance Issues You Need to Know. Michael Nuschke, CFP will be tackling the topic of Moving To Mexico: The Essential Money Matters. Dan Collison, President of Advice2Advisors will discuss Modern Prospecting Theory: It Starts With Confidence And Ends With Tax!
Making the case for Small Business: Close to 45% of the Canadian workforce is expected to be self-employed by 2020. The potential of this "new economy" workforce is inspiring because these new entrepreneurs need your help with tax compliance and investing for their future. Yet, this is a dramatic shift away from prior labour markets and it will affect you and your practice. Worse, in an ever-changing taxation system, and the potential for continued costly tax hikes for the entrepreneur, the greatest thing standing between you and your value proposition for these potential clients, is silence. Find out why when Dan Kelly, President of the CFIB discusses the need for Powerful Competitors: The Rise of Small Business in the New Gig Economy. He will challenge you to speak up for the fair treatment of small businesses so that this backbone of the Canadian economy can flourish.
Addressing the new challenges of HNW Executives . Recent tax changes have affected senior executives too. You'll hear more about Personal Pension Plans from Jean-Pierre Laporte, CEO, Integris Pension Management, Mark Taucar , Portfolio Manager, Accilent Capital Management Inc. and Employee Stock Options from Kristin Ramlal PFP, CIM, FCSI Securities Specialist and Credential Qtrade Advisor.
How to identify the big opportunities in succession planning: It's estimated that there is $60 Trillion in global wealth built by the Boomer generation that will need to be transferred to the next generation in the coming years. There is a huge responsibility involved in the transference of wealth from one generation to the next, and the continued preservation and growth. Executive coaches Joanne Sigurdson and Jenifer Bartman will be exploring this opportunity at DAC.
How to work with ageing clients: In an ageing demographic, advisors need to know what to do and how to work with clients who may start losing financial decision-making capacity. It is quite possibly the most compelling challenge of our times; considering the potential for financial abuse. Terri Williams, CFP will help DAC attendees identify the proactive steps they can take to give their clients confidence that there is a plan in place for their long-term financial well-being.
How to approach a big topic with HNW clients: planning philanthropy . Another opportunity in wealth transfer and estate plans is to incorporate strategic philanthropy into your practice. Philanthropy and Canadian Charitable gifts can be a powerful tool in not only preserving wealth, but also in giving back to the community. Kim GC Moody of Moodys Garner Tax Law LLP will be discussing the role strategic philanthropy plays in wealth and estate plans at DAC.
How to build momentum, with compassion: In a time of uncertainty, when we put weight on the human qualities, perseverance and latent potential that drives the human race to excel from one generation to the next, we build momentum toward success. At DAC, Russ Sheppard will share his story of how he found a way to reach his high school students in a northern community ravaged by homelessness, abuse, and suicide. His key to success: uncover the incredible power of the human spirit by giving people an environment in which they can excel.
For more information, visit the DAC page of our website or call 1.866.953.4769
* Prime Minister concludes productive G7 Leaders' Summit in France
COPYRIGHT OWNED BY KNOWLEDGE BUREAU INC., 2019.
UNAUTHORIZED REPRODUCTION, IN WHOLE OR IN PART, IS PROHIBITED.